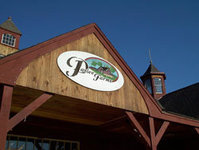 Tyngsboro, MA (PRWEB) July 10, 2013
Parlee Farms, a Boston area pick-your-own fruit farm, began its blueberry picking season on July 5th. Pick-your-own blueberries and fresh picked blueberries in the farmstand are available until late August - early September.
"Blueberries are one of the easiest fruits to pick and store, as well as one of the healthiest and it's looking like we will have a great blueberry crop this year!" said Ellen Parlee, owner of Parlee Farms.
Blueberries are the third fruit of the season available for "pick-your-own" at Parlee Farms, which has 10 varieties of high bush blueberries covering almost nine acres ripening over the course of the season. Parlee Farms first started planting blueberry bushes in 1991. Due to the large demand for fresh blueberry picking in the area, plantings have continually been added. The most recent planting was in 2008. It takes 7-10 years for a blueberry bush to reach full maturity.
Blueberries rank number one in antioxidant activity as compared with 40 other fruits and vegetables. One cup of fresh blueberries has about 85 calories. Blueberries have their greatest flavor when they are left on the bush for 7-10 days after turning blue. When ripe, the blueberries will easily come off the bush. Blueberries have a long shelf life – almost two weeks for dry, refrigerated blueberries and should not be washed until they are ready to be used. One quart of fresh blueberries weighs about 1-1/12 lbs. and will yield five servings.
In addition to blueberry picking, Parlee Farms also offers pick-your-own cherries until mid-July. Because of the weather conditions in New England the cherry picking season is very short. The season can be further reduced by weather conditions, especially if it rains when the fruit is present. Parlee Farms has nine varieties of sweet cherries that cover almost two acres of land. Fourteen hundred cherry trees are on a full-dwarf root stock, which makes them easy to harvest. The majority of the cherry trees at Parlee Farms are the Black Gold and Rainier sweet cherry varieties because they don't split as often as other varieties do.
In addition to pick-your-own, customers can also choose from a selection of fruit that is already fresh picked in the farmstand. From June through October the farmstand is overflowing with fresh fruit, local vegetables, and bakery items created in the on-site bakery.
To learn more about Parlee Farms and to find out what the current picking conditions are, please visit http://parleefarms.com.