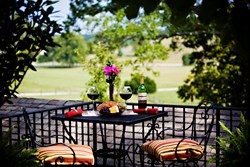 It is a fabulous facility in every way! Every detail of the estate is so immaculate, and there is so much to do…
Paoli, IN (PRWEB) July 15, 2013
For those looking to relax and enjoy nature,Blueberry Hill Estate and Day Spa offers a wide range of activities and amenities from food and wine parings and day spa services to disc golf and nature walks. Whether your relaxation style includes basking in the sun or hiking through trails on the country side, guests will leave feeling balanced and calm. Perfect for couples, the Estate is becoming a popular contender for weekend escapes.
Located just twelve miles away from The French Lick Resort & Casino, Blueberry Hill Estate sits upon 200 acres of panoramic views of the countryside and plenty of attractive options for how to spend your day trip or weekend kicking back. Start off by settling into a plush lawn chair on one of our patios while sipping a glass of wine paired with gourmet chef selections, then head to the lawn for games with other guests and follow up with a spa treatment. Guests can extend relaxation and fun by staying overnight; catch up on beauty sleep in a suite, secluded cottage or the Estate's signature Glamping which offers an upscale camping experience.
Blueberry Hill Estate is known for legendary experiences for a wine connoisseur looking to please their palate with both luxurious wines and perfectly paired food options. Local and international whites and reds are offered ranging from Pinot Grigio, Chardonnay and Merlot along with other seasonal and daily selections. The Estate's on site chef specializes in gourmet dishes highlighting the freshest, seasonal ingredients.
For those who can't stay overnight at Blueberry Hill Estate, daytime getaway experiences are offered to give guests the full Estate experience. The head of Blueberry Hills' Guest Services recommends the day spa for those looking to squeeze in the best of what the Estate can offer in a day. Try unplugging from technology and let yourself melt away stress in the Day Spa; it's a one of a kind experience with traditional massage services and an extended menu to include unique clay mud bathing and mineral baths. The great weather makes sitting poolside in a private cabana with personal wait staff service ideal for the spa services.
Guests are rating their Blueberry Hills experience as a high five stars. State Rep Jerry Denbo raves over the Estate, "I had the privilege of going to Blueberry Hill--and wow! It is a fabulous facility in every way! Every detail of the estate is so immaculate, and there is so much to do…" When asked about his most recent visit to the Estate. The guest service members go above and beyond to meet the needs of all visitors and are excited to have you on the property. Choose Blueberry Hill Estate for your next getaway or special event for an unforgettable experience that will have you craving more long after you've left. For more information and to view the breathtaking photos of the Estate, head to http://www.BlueberryHillEstate.com.