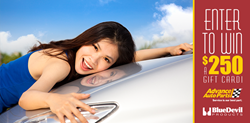 "Between a successful blog, a completely rebranded company and a dedication to digital marketing, theirs no telling what's around the corner for us! It's exciting!!" - Troy Porcelli, VP of Operations
Charleston, SC (PRWEB) January 24, 2014
BlueDevil Products and Advance Auto Parts have joined forces to give someone a great Valentines Day with a $250.00 gift card for use at any Advance Auto Parts Nationwide! All details of the current promotion can be found here on the BlueDevil Products Facebook page. Fans can also earn extra entries by sharing the contest amongst their social media outlets. For 15 years, BlueDevil Products has been stopping vehicle leaks across the country with their wide variety of "Stop Leak" solutions. Advance Auto Parts currently carries several BlueDevil Products including BlueDevil Oil Stop Leak, Rear Main Sealer plus it's most popular BlueDevil Head Gasket Sealer.
Becoming a fan of BlueDevil Products facebook community not only puts a customer in the drawing for the gift card, but also offers links to it's very informative automobile blog, weekly news & caption contests along with chances to get complimentary products sporadically throughout the year. "Our social media circle has grown TREMENDOUSLY since newly appointed Marketing Director Michael Schrecker took things over in late 2012," says Vice President of Operations Troy Porcelli. "Michael has successfully started a fun following which portrays the companies goals and dedication to its customers. Between a successful blog, a completely rebranded company and a dedication to digital marketing, theirs no telling what's around the corner for us! It's exciting!"
Check out the BlueDevil Products Facebook page now for more details on the promotion. Just look for the extremely happy gentleman hugging his shiny car on the tab across the top of the page. The company will continue this promotion through February with a grand prize drawing on Valentines Day at Noon (EST).
Since 1997, BlueDevil Products has become a serious competitor in the automotive aftermarket with its complete line of chemical solutions. From cracked heads and radiators to oil pans and transmissions, BlueDevil Products manufactures quality sealants for various repair options in automotive systems.