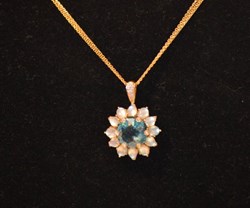 November 9th, Blue Heron will mark 25 years with a special event.
Poulsbo, WA (PRWEB) October 31, 2013
Blue Heron Jewelry Company knows just how special anniversaries are, and for the last 25 years they have been providing beautiful, handcrafted pieces to help customers commemorate their very special days. Now it is Blue Heron's turn to celebrate hosting their very own 25th anniversary celebration Saturday evening, November 9th.
Guest designers Toby Pomeroy and Sarah Graham will be displaying some of their amazing pieces throughout the day, starting at 10:30 a.m. The store will be closed from 4:00 pm - 5:00 pm as Blue Heron prepares for their Anniversary party. The store will reopen from 5:00 - 8:00 pm to unveil newly designed pieces by Leo Fried, founder of the Blue Heron Jewelry Company.
A ribbon cutting ceremony courtesy of the Greater Poulsbo Chamber of Commerce will take place at 5:15 pm along with a special birthday candle wish to help celebrate as Blue Heron kicks off their next 25 years of creating stunning jewelry.
This event is by invitation but all are welcome, if you wish to attend, please visit the Blue Heron page to attend this memorable event: https://www.facebook.com/events/164497413757856/.