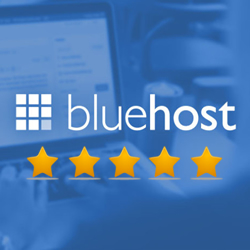 San Francisco, CA (PRWEB) June 13, 2014
BestHostingSearch.NET, a leading web hosting review site, recently announced an update to BlueHost rating which is now 5 out of 5, the highest among the ratings of all the web hosts that are reviewed on price, feature, control panel, performance and technical support. Since then, BlueHost has been a highly recommended provider on the site.
The editors at BestHostingSearch.NET are testing and reviewing web hosts and their packages all the time and updating the editorial ratings based on real testing and monitoring results. Besides, they have been collecting customer reviews to work out the customer rating of web hosts.
BlueHost is one of the largest web hosting providers worldwide, offering a wide range of products including shared, VPS, dedicated server, reseller and managed WordPress hosting, among which the shared hosting is the most popular one powering millions of websites. The all-in-one package is priced from $3.95/mo with a 44% discount applicable to new customers making subscriptions through this promotional link.
BlueHost keeps a rating of 4.98 of 5 from the 608 customers having submitted reviews, and receives a rating of 5 of 5 from the editors. The overall editorial rating is made on the basis of the ratings given to several factors including performance, control panel and technical support.
In terms of performance, BlueHost is rated 5 of 5. The company guarantees 99.9% uptime and runs 3 data centers to get the commitment covered. All of the data centers are equipped with power redundancy, 24x7 security, advanced routing technology, and resource protection, which not only maximizes the uptime, but also ensures fast speed.
BlueHost control panel is rated 5 of 5. For website account management, the company provides all customers with cPanel, a powerful control panel with an icon-based interface that is easy to organize and customize. With the interface, webmasters are able to manage multiple websites, add domains, install applications, create email accounts, analyze website statistics, configure security features, and upgrade their package at any time.
In addition, BlueHost obtains a rating of 5 of 5 in support. The company offers US based technical support via phone, live chat and email 24 hours a day, 7 days a week. The support team not only responds to technical issues, but also provides guidance on marketing. For requests made through phone and live chat, the response time is guaranteed to be less than 30 seconds on average.
Read this page for details about BlueHost ratings and the company's service.
About BestHostingSearch.NET
It is a large web hosting review site that reviews and rates web hosting services based on real experience, and reveals the secrets in the industry to help webmasters get away from scams and troubles.