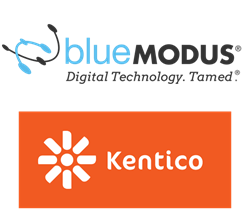 This is a great achievement for the BlueModus team. Our clients now have the best-performing, scalable and most secure sites possible.
Denver, CO (PRWEB) September 01, 2015
Kentico Software, the Web Content and Customer Experience Management provider, created this new Partner Quality Audit with the goal of ensuring their network of over 1100 solution partners are consistently using best practices and industry standards when implementing the Kentico platform as a website solution for customers. It recognizes those partners who are working at the very highest levels of technology and standards while implementing web content management solutions for clients.
"This is a great achievement for our team," notes BlueModus Director of Application Development Nate Kresse, who oversaw the Quality Audit Certification from BlueModus' perspective. "It has allowed BlueModus and Kentico to collaborate closely in order to agree upon best practices we will both hold our sites to, which benefits everyone. Our clients now have the best-performing, scalable and most secure sites possible. Now that we've completed this process, this same high standard of quality will be applied to all future projects as well."
BlueModus was one of two global Gold partners, and the sole North American Partner to achieve this certification, after a rigorous review of their site implementations by Kentico's top architects. The agency met Kentico's strict requirements for security, performance, and coding best practices along with the correct, fully optimized use of Kentico features and integrations.
"Customers are demanding increasingly sophisticated WCM solutions," said Kentico Founder and CEO Petr Palas. "They want seamless integration with other best of breed solutions across the enterprise. They are looking to maintain performance while dealing with more and more visitor traffic. And they are pushing digital marketing and marketing automation capabilities to greater heights. So we felt it was necessary for customers to know, with certainty, which Kentico partners are bringing the greatest technical assets to the table." Palas continued, "The Kentico Partner Quality Audit program is designed to do just that. It is a win for customers, a win for Kentico, and it's driving the industry towards superior levels of technical execution and delivery."
"BlueModus is very proud of achieving this highest level of certification from Kentico," said Kresse. "By taking the time to work with us – to ensure we are taking full advantage of Kentico and meeting the highest level of performance, security and other standards – Kentico has shown once again that they truly care about partner success, client satisfaction, and the business output that comes from the use of their product."
For learn more about how BlueModus provides full-service business and Web solutions and services in support of it clients' digital initiatives, visit http://www.bluemodus.com.
____________________________________________________________________________________________
About BlueModus:
Founded in 2001, BlueModus (http://www.bluemodus.com) is a digital technology agency that has developed and integrated hundreds of dynamic, interactive applications for our global clients and agency partners, including: Bacardi Global Brands, Cisco Systems, Gap, Aon Hewitt, McKesson, Bayer Healthcare, National Jewish Health, HP and many others. Typically partnering with digital marketing teams and interactive agencies, BlueModus creates and supports robust Web applications and digital marketing initiatives.
About Kentico:
Kentico brings smart integrated digital marketing to businesses of all sizes with a comprehensive suite of solutions. With Kentico's Web Content Management, Online Marketing, E-commerce, Online Communities, and Intranet & Collaboration solutions, clients can deliver superior cross-channel customer experiences across all devices. Based on the Microsoft .NET platform, Kentico comes with 450 web parts and fully documented API and is available on-premise or in the cloud. Flexible, robust and scalable, Kentico delivers right-first-time technology, out-of-the-box speed, and affordable sophistication to help customers meet their goals faster and more profitably.