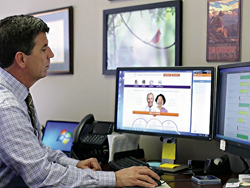 technology that engages physicians, patients and care teams around a common aim...must be simple, convenient, reliable, and bring return on the investment
CRANBURY, NJ (PRWEB) October 15, 2014
The new technology platform for team-based care coordination and patient engagement is being broadly introduced to healthcare organizations focused on quality, team-based care. Dr. James Walton, CEO of Genesis Accountable Physician Network (GAPN), a Dallas-based ACO comprised of more than 1,400 physicians, will share the story of "Activating Team-Based Care Coordination & Patient Engagement with Care Navigator™."
Developed by BluePrint Healthcare IT, Care Navigator™ will be featured in a live streaming event to be held at the Microsoft Technology Center (MTC) in Malvern, Penn. on October 20, 2014. The 1-2 p.m. EDT broadcast via the MTC website will be preceded by an invitation-only lunch that begins at 11:30 a.m.
Dr. Walton, along with two healthcare presenters, will portray the roles of physician, care coordinator and family caregiver in real-world scenarios of a patient's care team, utilizing the MTC's Envisioning Center. Each role will share the top challenges faced in caring for the patient and demonstrate how the Care Navigator™ software platform helps them meet those challenges head on.
This live event will give providers, accountable care organizations (ACO), and health plans the opportunity to see how one ACO, GAPN, is utilizing mobile technologies to accomplish three goals. According to Vikas Khosla, President and CEO of BluePrint Healthcare IT, "Genesis is doing something different as part of their care coordination. This event will show how they use technology to mitigate non-clinical barriers to care coordination success; communicate and collaborate with the entire care team beyond the four walls of healthcare; as well as demonstrate how they engage their physicians, patients and family caregivers towards true team-based care."
"As physicians," Dr. Walton says, "we see expectations of increasing performance while experiencing losses in income and autonomy as threats to our independence." Dr. Walton will share his perspectives as a physician, healthcare leader and ACO executive on the role technological innovation plays as a disruptive force of positive change. Walton adds, "As healthcare leaders, we are in the midst of a shift to value-based contracting while experiencing time and financial pressures to execute rapidly in the transformation of care delivery. And, as ACO executives, we are under pressure to gain infrastructure maturity to address the increasing need for coordination of health care across the continuum. I believe all three of these issues can be addressed through technology that engages physicians, patients and care teams around a common aim. And, this technology must be simple, convenient, reliable, and bring return on the investment."
As part of the live, streaming webcast, Vikas Khosla and Sandra Selzer, Vice President of Product Management for BluePrint, will demonstrate features of the Care Navigator™ platform that align, and support, each of the care team roles. "From physician and care coordinator to patient and family caregiver, each care team member has special needs that have been addressed in powerful ways," said Ms. Selzer. "Care Navigator™ can be used by anyone on the team, anytime, and on any device. This gives everyone unsurpassed security and opportunity for collaboration and communication not seen in care coordination and patient engagement platforms until now," Selzer added.
Healthcare contacts in the Philadelphia region can attend the live event with lunch by calling Pamela Macey at (732) 607-0011 to register by October 17. Those unable to attend the event at the Microsoft Technology Center, can join the live streaming webcast by registering at the BluePrint web site http://bit.ly/MTCWebcast by October 17.
For more information about BluePrint Healthcare IT and to see videos about Care Navigator™, visit http://www.blueprinthit.com.
# # #
About BluePrint Healthcare IT
BluePrint Healthcare IT is a professional services and software company working with healthcare organizations to create secure, connected communities of care to achieve the Triple Aim. Founded in 2003 in Cranbury, NJ, BluePrint Healthcare IT supports hospitals, healthcare systems, accountable care organizations, regional healthcare initiatives and health plans. BluePrint became a Microsoft Managed Partner with the development of Care Navigator™, the care coordination technology platform used to enable active, scalable communication for the whole extended care team from physician to patient.
About Care Navigator™
Care Navigator™ is a software platform that enables real-time, team-based care coordination while engaging the entire care team, including the physician, patient, family, and community caregivers. Care Navigator™ is built upon Microsoft Dynamics® CRM, as well as five other Microsoft® products, and integrates with Microsoft Outlook®. The platform can have full, bi-directional integration with an electronic medical record, or be used as a singular platform with manual data entry. Care Navigator™ is available as a web-based application; as a mobile app for Windows 8, iOS and Android; and soon-to-be released, new Modern Windows® 8.1 app that can be used on any Windows® tablet.
About Genesis Physicians Group
Based in Dallas, Texas, Genesis Physicians Group offers its physician members the benefits of remaining independent, yet supported by its suite of IPA services. Through Genesis, members receive contracting and revenue enhancement, credentialing, group purchasing, education, IT consulting, and more. Genesis supports approximately 1,400 physician members, with 450 primary care physicians and 900 specialists in 70 medical specialties. Genesis' subsidiary, Genesis Accountable Physician Network (GAPN) offers members quality-based contracts and serves to coordinate care to improve health outcomes and manage costs to increase the effectiveness and efficiency of healthcare services through innovative technology. Visit http://www.genesisdocs.org for more information.