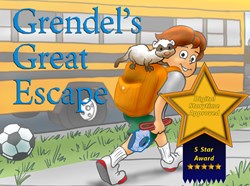 A good book app delivers a multi-sensory reading experience that brings the reader into the story through interactivity, movement and sound.
Little Elm, TX (PRWEB) November 25, 2013
In just over one year, Michelle Anaya of Blue Sandpiper Imprints has had over forty thousand downloads of her book apps worldwide. The largest markets being the United States and Australia. She has also has a lot of success in China, Canada, the UK and countries within Africa.
As parents buy digital devices for their children this holiday season, they are looking for fun apps with educational content. The newest feature in these apps are an educational component called "Apps with Curriculum." These writing prompts and thought starters supplement the story and are attracting more downloads from elementary schools.
Children are responding to the high level of interactivity and multi sensory experience that enhance the story. These features include narration, animation, music, sound effects and creative activities.
Michelle Anaya created Blue Sandpiper Imprints to develop interactive books that will encourage reading among reluctant readers. Book Apps promote productive screen time with relevant stories featuring strategic games and activities. The apps are: Monster Jam which is a rock and roll story and Grendel's Great Escape which is a show and tell day adventure story of a boy and his pet ferret. Grendel's Great Escape has been the recipient of many rave reviews and has been listed as one of the top 25 children's stories of 2013 by Digital Story-time. Picture books for both Monster Jam and Grendel's Great Escape are currently being produced and with an expected Spring '14 launch.
For more information on Michelle Anaya or Blue Sandpiper Imprints, visit http://www.bluesandpiper.com.