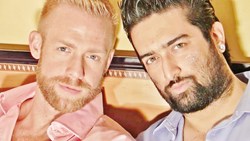 Loved.
Vancouver, BC (PRWEB) December 06, 2013
Blue Sapphire also known as Jazz Nights is a double feature music video compilation with the main track Penthouse. The feature musical depicts romance, tea lights, candles, nightlife, narration of love and sex tales with beautiful men and women. The musical was recently filmed and produced in Vancouver, featuring notable gay porn star Christopher Daniels as leading model.
Midnight Prophecy Movies also known as The Hidden Messages of World War 3 is a feature musical compilation which depicts the signs of the end of time. The emergence of the anti-christ dajjal and the second coming of Jesus to Damascus is portrayed. The battle at prophesied area near Ben Gurion Airport in Israel is depicted too.
Vancouver Nights is a half hour musical program dedicated to the fashion industry and the glamorous nightlife of Vancouver. With the use of Vancouver skyline in the video, various models pose up against it as a symbol of celebration and happiness. The music video depicts clubs, fashion events and sex parties that take place in Vancouver on a regular basis.
Omer Pasha recently held two premieres of his music videos The Soul of Cole (Double Feature Musical ), Vancouver Midnight Movies and The Cal Crew (Caucasian Love Returned) at Vancouver Fanclub and The Republic/Annex Nightclub at two fashion gala events.
Omer Pasha Music Videos are now produced on promotional DVDs and are to be distributed at upcoming entertainment events in Vancouver and will make their debut in gala film festival events in Los Angeles in 2014. Omer Pasha will continue his series of live performances at local venues in Vancouver.
Youtube playlist - live coverage and music videos: http://www.youtube.com/playlist?list=PLPJK59W98xnYYoiE6shT_oknPxtPfUn8H
All films are directed, edited and produced by Omer Pasha. Omer Pasha is the official songwriter for all his music. All songs on the album Omer Pasha Music are composed, written and produced by Omer Pasha. An album comprised of 100 songs with the genres of Pop, Rock, Jazz and Dance has been released on all iTunes Stores in the USA, Canada and the UK. The album is is also out on Amazon, JB Hi-Fi (Australian ), Sony Entertainment Network and several numerous other online music outlets.
iTunes Link: https://itunes.apple.com/album/omer-pasha-music/id765927873
Top 40 Tracks from Omer Pasha Music:
1.Loved
2.The Rise of Shay (Radio Mix)
3.The Soul Cole (Main Medley)
4.Bennie's World
5.Arizona
6.Leo's Club
7.You Let It Come (Radio Mix)
8.Pain to Penelope
9.The Cal Crew (Arkansas Mix)
10.Rockstar Pain Theo
11.My Message Reprise (Radio Mix)
12.The Curse (Odyssey Remix)
13.1am Penthouse Party (Am Mix)
14.All the Padcams
15.Frathouse Activity
16.Draculas in Jayden's House
17.Who Are You (Blue Toys Club Mix)
18.The Rivers Medley 1
19.The New World Order
20.Who Are You (Tribal Club Mix)
21.You Let It Come
22.The Rise of Shay
23.The Soul of Cole
24.Who Are You (Dancefloor Club Mix)
25.The Curse (Rain Club Mix)
26.The Cal Crew
27.The Last Fire
28.The Power
29.The Rise of Shay (Precursor Mix 2)
30.The Time Is Here (Radio Mix)
31.Who Are You (Electro Club Mix)
32.The Cal Crew (Orgy Mix 1)
33.Pain's Nightmare
34.Miss Asspussy Shay Florida
35.Max's World (Radio Mix)
36.Kelan's America
37.Glory of Christ (Reprise) Radio Mix
38.Leo's Club (Jace Max Radio Mix)
39.Bennie's World (Extended Mix)
40.The Curse (Euro Club Mix)