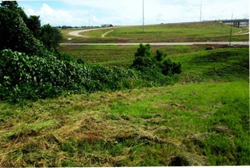 Tupelo, MS (PRWEB) July 15, 2014
A 10.9-acre, commercially zoned parcel of highly visible land next to Hwy 9 and 78 in Blue Springs, Mississippi (zip: 38828) has been scheduled for online auction during Micoley.com's July 26 auction event. The currently vacant parcel is located across the highway from the new Toyota Plant interchange and is located adjacent to the Tier-1 Toyota Tsucho America planned site -- this a unique commercial development opportunity.
Wade T. Micoley, president and CEO of Micoley.com spoke of the upcoming land auction, "With the investment Toyota has put in this direct location, and the great highway access and visibility of this parcel, we feel this site lends itself for many uses. It has great long term potential or present day end user opportunities from the immense amount of traffic to and from the area on a daily basis."
This lot is zoned commercial with MOU restrictions and best use of this parcel revolves around the activity and employment at the Toyota facility and its recommendations in terms of land use planning, infrastructure and transportation. Due to the high volume of trucking traffic to and from the plant, this patch of land is perfect for use as a large truck stop development or other large scale retail/restaurant developments. The nearest truck truck stop is located over 8 miles away.
As Toyota's eighth North American vehicle assembly plant, the plant employs a direct workforce of 2,000, an indirect workforce of 4,900, an induced workforce of 1,402 and is responsible for 278 government jobs, as well -- the long-term economic impact of the plant is expected to be massive. The demand for nearby gas stations, restaurants, and other retail developments is only expected to increase once the second phase of the plant's implementation kicks in.
Blue Springs is located in Northern Mississippi, 16 miles north of Tupelo. This vacant parcel of land is currently listed at $3,795,000 with an opening bid of $995,000 if no offers are received before the July 26 auction. The highly motivated sellers of this parcel have indicated that they plan to entertain early bids and offers. Buyers are most likely already researching this property and are coming to decisions about whether to make a purchase, so potential buyers are advised to act fast.
Interested parties should visit micoley.com to find more photos and details about the property, or visit the parcel in person to perform an inspection on site, which is highly recommended. (866) 371-3619 is Micoley.com's information line. Additionally, Micoley.com features a live chat service through which questions can be answered.
About Micoley.com:
Green Bay, Wisconsin-based Micoley.com is a real estate marketing firm specializing in project focused auctions of bank-owned properties throughout the United States. The Micoley.com approach to real estate marketing tailors each auction plan to the client's individual needs. The site is constantly being updated for the benefit of buyers, as large-scale auction events are held monthly, and new properties are added daily. MS Auctioneer: Rick Roundy #1375. Broker Firm: Micoley.com LLC #20813. Broker: Wade Micoley #20744.