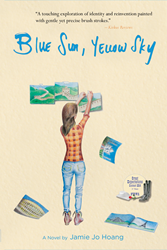 "A touching exploration of identity and reinvention painted with gentle yet precise brush strokes." --Kirkus Reviews
Los Angeles, CA (PRWEB) March 11, 2015
Blue Sun, Yellow Sky is a simultaneously heartbreaking and inspirational story about one artist's journey from painter to blind photographer. Available now on Kindle and in paperback March 11, 2015, Hoang's debut novel is contemporary upmarket women's fiction with a touch of romance.
Hailed as "one of the best technical painters of our time" by an L.A. Times critic, 27 year-old, Aubrey Johnson's work is finally gaining traction. But as she weaves through what should be a celebration of her art, a single nagging echo of her doctor's words refuses to stay silent—there is no cure. What does it mean to be a blind artist? Better yet, does Aubrey even want to be an artist if she can't see?
So begins her quest. Traveling on a one-way ticket around the world with childhood friend Jeff Anderson, Aubrey is in complete denial. But a blindfolded game of tasting foreign foods in China forces her to  confront the reality of her situation.
In this adult coming of age story, Aubrey struggles to accept her crippling disability and what she perceives as the loss of her independence. But on her journey she finds a deeper understanding of herself and her life--sometimes fragmented and complex, but always with humbling honesty.
"A touching exploration of identity and reinvention painted with gentle yet precise brush strokes." --Kirkus Reviews (Starred Review)
"Blue Sun, Yellow Sky delivers a glimpse into the artistic process, a stunning globe-trotting journey, and the intimate portrait of mending a heart broken by life itself." --Indigo Wilmann, Visual Yarn
About the author: When she's not spending all her time reading women's fiction, Jamie Hoang works as a freelance series producer for networks including FOX2, CBS, and NBC. She is also a contributor to TinyBuddha, Cupboard Sundries, and Simpler Life Today, where her raw and beautifully candid articles have reached millions of readers.
Blue Sun, Yellow Sky is available now on Amazon in December 2014 ($2.99 Kindle), and in Barnes and Noble in April 25, 2015 ($9.99).
Go to YouTube to check out the official Blue Sun, Yellow Sky Book Trailer.
Follow author Jamie Hoang on Facebook for more information about the release.