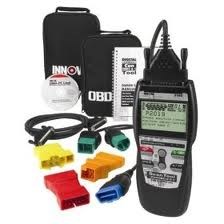 Some of the Bluetooth devices include the Controller Area Network technology used on all 2005 and later vehicles
Cincinnati, Ohio (PRWEB) August 16, 2013
Bluetooth is an expanding wireless technology that has been pioneered through cellular phones in North America. This technology is now used in automotive diagnostics and the GotEngines.com company is rnow eviewing popular devices. This company has completed and published its Bluetooth OBD2 scanner reviews online at
http://www.gotengines.com/blog/reviews/obdii-scanner-reviews-obd-2-scanner-diagnostic-code-reader.
The on-board diagnostic tools that are used by mechanics to troubleshoot error codes in OBD enabled vehicles have expanded in technology. The new units that are in production include more than the standard OBD or OBD2 codes used to evaluate problems.
"Some of the Bluetooth devices include the Controller Area Network technology used on all 2005 and later vehicles," said a reviewer for the Got Engines company.
Some units sold online are now revealed inside the review to be listed for under $20 dollars depending on retailer incentives.
A vehicle owner hoping to save money by not using mechanics for diagnostic purposes could reduce the price of repairs, according to the review content published online. Owners of vehicles who are able to make the determination of what type of auto scan tool needed to diagnose a problem could eliminate professional diagnostics from repair costs.
"The Bluetooth technology and computer or non-computer devices are entered in the review to provide one of the most comprehensive auto scanner reviews online," the reviewer confirmed.
Apart from the OBD2 scanners information, the Got Engines company continues to supply its customers with used engines that are ready for installation upon freight delivery. These units have helped earn the company it secondary market seller reputation in North America since the initial launch online in 2007.
About GotEngines.com
The GotEngines.com company now reviews popular consumer automotive products and services that can be purchased direct from retailers online. This automotive company promotes its used engines globally and is now a top resource for price comparisons and other engine data online. The GotEngines.com company added the new reviews section online in 2013 and this practice is slated for continuance through the coming year. The informational resources now offered by this company are designed to remove frustration and increase communication before consumers buy online.