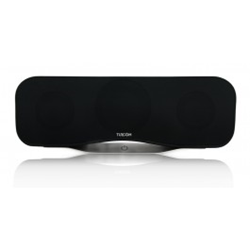 San Diego, CA (PRWEB) February 16, 2015
UltimoValue (http://www.UltimoValue.com), a leading online retailer of discount consumer electronics, today announced a sale on its most popular wireless Bluetooth speaker system. From today until Friday, February 20th, customers can save up to 50% on the Turcom TS-460 Wireless Bluetooth Speaker System.
"The TS-460 is our most full-featured Bluetooth speaker," says Ozgur Gorur, CEO of UltimoValue. "This one of the few times a year we are offering it at a discount."
The TS-460 system features three built-in speakers, including two 10 Watt tweeters and a 30 Watt subwoofer that delivers a rich bass sound. Sound can be optimized for either music or movies with the touch of a button. The system comes with a handheld remote.
With the 50% discount, the system is on sale for $99. It normally retails for $200.
"Comparable audio systems retail for up to $300," says Gorur.
Bluetooth speakers pair with other electronics such as smartphones, laptops or desktop computers, allowing those devices to play music and movies with richer sound. The Bluetooth pairing process is simple and reliable, and the speakers can be up to 30 feet from the computer or smartphone. Bluetooth speakers can work with any Bluetooth enabled phone or computer, working with Windows, Macintosh, iOS and Android systems.
In addition to saving on the product's list price, Gorur says that customers can get free shipping within the United States.
For more information about the Turcom TS-460 Wireless Bluetooth Speaker System, please visit http://www.ultimovalue.com/turcom-wireless-bluetooth-4-0-speaker-remote-control-usb-input-aux-input-50-watts-of-power.html
About Ultimo Value
Ultimo Value (http://www.UltimoValue.com) is the premier flat screen wall mount manufacturer and consumer electronics retailer, offering leading, top-of-the-line consumer electronic brands and specializing in providing innovative mounting solutions for flat screen plasma, LCD, LED televisions and home stereo systems. Ultimo Value also a leading supplier of a wide range of electronics and home equipment at competitive wholesale prices.