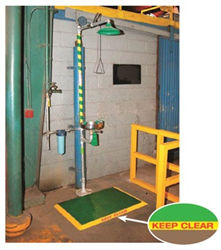 Fort Worth, Texas (PRWEB) October 10, 2014
Bluff Manufacturing, an innovative leader in the fabrication and design of high quality material handling, dock and warehouse equipment, storage structures, and safety barriers, joined more than 900 exhibitors at the 2014 National Safety Expo on September 15-17th in San Diego showcasing innovative safety products and solutions.
Bluff Manufacturing has been a leader in dock and warehouse safety products for more than 45 years. All products are built to the most rigid industry standards while providing customers with the greatest possible value. Bluff Manufacturing recently expanded its portfolio of safety products by introducing a line of plastic product offerings which include hose bridges, modular matting, recycled plastic cribbing and a forklift stabilization kit.
The new easy-to-assemble hose bridge being offered consists of unique puzzle-shaped pieces that fit in any configuration. Locked in place with a patented all-stainless joiner, the bridge is available with 3" to 8" hose openings. The Standard Hose Jumper consists of six openings: two 5", two 4", and two 3" openings. The Super Hose Jumper is made to be used for trucks only and accepts up to 6" and 8" hoses.
Bluff Manufacturing's new modular matting product allows customers to build their own tile system for irregularly-shaped areas or buy pre-assembled for added convenience. Made from recycled plastics, the matting tiles turn wet surfaces into dry walkways that are safe, sanitary, and easy to clean. Applications include workstations, ADA ramps, walkways, tool rooms, chemical prep rooms, conveyor lines, showers and more.
Bluff Manufacturing is proud to offer Eyewash Station safety products which provide options to improve the safety, visibility, and compliance of eyewash stations. Pre-assembled eyewash mats can be used for emergency eyewash stations, shower stations, or fireboxes. Bright color options will help identify emergency stations while an open grid system whisks water away from the surface to prevent slipping and further injury. Bluff Manufacturing's Eyewash Station Safety Kit which will include a green 3'x3' eyewash mat in addition to a Modular Protective Barrier (MPB) to designate an appropriate eyewash area as regulated by the Occupational Safety and Health Administration (OSHA).
For years, many industries including fire departments, mining, and construction, have relied on wood to crib, block, or stabilize equipment, products, and vehicles. Plastic cribbing, however, does not have knots and will not split, crack or splinter. Plastic does not absorb oil or most chemicals, making it slip-resistant and safer. Bluff Manufacturing's new Forklift Stabilization Kits contain the basic composite cribbing and wheel chocks useful for safely working on forklifts.
Bluff Manufacturing also showcased their patented vehicle rooftop snow removal machine, Durasweeper®, at the NSC Expo. The DuraSweeper's® unique state-of-the-art technology allows for the removal of snow from rooftops of vehicles without damaging the integrity surface of the roof. The DuraSweeper® utilizes a thirty-two inch poly wafer brush that is mounted on an axle to two uprights and angled for more effective snow removal. The brush is raised hydraulically to a height just inches above the rooftop to just so that as the vehicle passes under the spinning brush, the DuraSweeper's® patented flicking action removes snow quickly and easily. The DuraSweeper® can be used year round to clean debris from the decks of wood-based flat beds.
For more than 45 years, Bluff Manufacturing has been recognized as an innovative leader in the fabrication and design of high quality dock, warehouse, and safety equipment. Bluff Manufacturing, whose customers include Frito Lay, Lumber Liquidators and Airgas, adheres to the American National Standards Institute's (ANSI) MH30.2 standard, ensuring the highest quality products and providing customers with the greatest possible value. Based in Fort Worth, Texas, Bluff Manufacturing serves the entire U.S., Central & South America and the Caribbean through a national distributor network, and the company's 7 distribution warehouses ensure quick delivery of the standard items in the company's product line including yard ramps, dock boards, and dock levelers. Bluff Manufacturing acquired B&L Structures in June 2010, expanding its portfolio to include steel structures such as, cantilever rack, stairways, free standing conveyor support structures, catwalks, work platforms, caged ladders, and mezzanines.