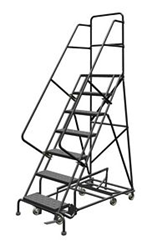 Tri-Arc products are a tremendous fit with Bluff because of their commitment to quality, flexibility, engineered solutions and great lead times.
(PRWEB) April 30, 2015
Bluff Manufacturing announced today a distribution agreement with Tri-Arc, the leading provider of climbing and access products – including rolling ladders. For years, Bluff customers have requested rolling ladders to complement the company's lines of high quality dock, warehouse, and safety equipment. Now, Bluff's material handling distributors will have access to Tri-Arc products.
"Tri-Arc products are a tremendous fit with Bluff because of their commitment to quality, flexibility, engineered solutions and great lead times." says Andrea Curreri, President of Bluff Manufacturing. "Tri-Arc products are the best in the industry and like Bluff, manufactures in the USA."
Tri-Arc's Vice President and President of the American Ladder Institute, Ron Schwartz adds "We are excited to expand our reach with this relationship with Bluff Manufacturing and to provide solutions to meet their customer's safety, OSHA compliance, productivity and ergonomic needs in the areas of access and fall protection."
Headquartered in Pittsburgh, PA, with over 50 years experience, Tri-Arc is one of the largest manufacturers of custom ladders, standard ladders and access solutions for a variety of industries including aviation, transportation and industrial applications. Tri-Arc has been recognized as a leader in providing the best of the best in climbing and access products including mobile ladders, work platform products, custom designed and engineered climbing and access product solutions. Tri-Arc products adhere to OSHA and ANSI codes and standards as well as other applicable codes. To learn more about Tri-Arc visit http://www.tri-arc.com
Based in Ft. Worth, TX for over 45 years, Bluff Manufacturing has been recognized as an innovative leader in the fabrication and design of high quality dock, warehouse, safety and storage equipment. Bluff Manufacturing, whose customers include Frito Lay, Lumber Liquidators and Airgas, adheres to the American National Standards Institute's (ANSI) MH30.2 standard, ensuring the highest quality products and providing customers with the greatest possible value. The company's seven distribution warehouses ensure quick delivery of the standard items in the company's product line including yard ramps, dock boards, and dock levelers. Bluff Manufacturing's portfolio also includes steel structures such as stairways, free standing conveyor support structures, catwalks, work platforms, caged ladders, and mezzanines. To learn more visit http://www.bluffmanufacturing.com