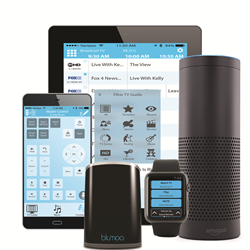 "Alexa, tell Blumoo to turn off everything"
Olathe, Kansas (PRWEB) April 26, 2016
Blumoo Smart Control has now linked technology with the Amazon Echo to provide yet another convenient option for users to control their home theater equipment from their personal devices.
Blumoo, the always accessible remote control that has given users the ability to quickly control all their home theater equipment right from their iOS or Android phones, tablets, and even Apple Watch is making home-control even quicker and easier through a voice-activated option for iOS owners.
By adding in Alexa Voice Services, Blumoo now enables their users one more option to quickly and effectively control all their home theater devices – simply by saying commands with their voice. Blumoo's voice commands can be initiated and sent to the Blumoo HomeBase through the Amazon Echo or Fire TV Voice Remote.
This new feature will be automatically updated on the Blumoo iOS mobile application and is now available to all Blumoo owners. Users simply select what devices they want to control in the Blumoo iOS Mobile Application and can just speak the commands through the Echo.
When using an Amazon Echo to translate the voice commands to Blumoo, the user can say things like:

"Alexa, tell Blumoo to turn on the TV"
"Alexa, tell Blumoo to press mute"
"Alexa, tell Blumoo to switch to channel 50"
"Alexa, ask Blumoo to describe what's on channel 50"
Anything users can control through a remote can now be done simply with voice.
To see this technology in action, visit:
https://www.youtube.com/watch?v=gef38RoT_JI
https://www.youtube.com/watch?v=f2PJpG3V8oA
About Blumoo
Blumoo is a smart remote control hub that controls all home theater equipment through the user's smart devices. Users can download the Blumoo App to Android or iOS smartphones and control their home equipment from smart devices including tablets, phones, Apple watches, and more. Blumoo controls over 250,000 unique home entertainment devices and updates it's database monthly. Blumoo's hardware is consistent and remains valuable over time – mobile app features and databases update automatically. Blumoo is user-friendly even without the Amazon Echo through the simple Blumoo mobile app. To obtain the voice-activating feature for Amazon Echo and Fire TV voice remotes, simply turn on 'Voice' in the Blumoo iOS Mobile App settings.
Blumoo is currently sold at Amazon, Best Buy, Sam's Club, ABT, Nebraska Furniture Mart, and Microcenter