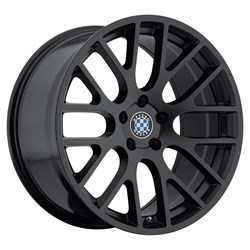 Beyern Wheels welcomes BMW's decision to segment their mid-size coupes into their own distinctive product line and since coupe buyers are a particularly performance and style-driven lot, our family of 4-Series wheels are very apropos
Huntington Beach, CA (PRWEB) September 30, 2013
The 4 Series, the latest product line from legendary German automaker BMW, is just arriving in showrooms around the world now. Buyers looking for an opportunity to upgrade and personalize these new coupes with aftermarket wheels have a wealth of exciting options from Beyern BMW Wheels, manufacturers exclusively of wheels for BMW vehicles.
"Beyern Wheels welcomes BMW's decision to segment their mid-size coupes into their own distinctive product line," commented Terence Scheckter, president of Beyern Wheels in Huntington Beach, California. "And since coupe buyers are a particularly performance and style-driven lot, our family of 4-Series wheels are very apropos," Scheckter added.
Beyern Wheels accept the original equipment Bavarian flag logo center hub, as well as the factory lug nuts, and are compatible with BMW's tire pressure monitoring system (TPMS). The wheels are precisely engineered to provide a 100% compatible fitment and are hub centric to provide a smooth, vibration-free ride.
4-Series buyers eager to add larger wheels to their new coupe will want to evaluate Beyern wheels in 18, 19 ands 20-inch diameters, as well as the stock 17-inch size. Beyern Wheels for BMW goes a step further, engineering their wheels to support a staggered fitment. In a staggered fitment, the rear wheels and tires are larger and wider than the front axle. This giver the vehicle a more aggressive stance, and improved off the line and lateral acceleration.
All five styles of Beyern wheels for BMWs can be viewed at http://www.beyernwheels.com, along with full technical specs and a fitment guide. The same web location features a gallery of over 200 images uploaded by actual customers, showcasing a wide variety of Beyern wheels on the full range of BMW models.
The best-selling Spartan style of BMW wheels is a favorite of BMW owners in pursuit of performance. It employs an exotic manufacturing process called rotary forging. Rotary forging results in a wheel that is both dramatically lighter weight than a conventional cast alloy wheel, while also being stronger. A rotary forged wheel is created from an initial cast of a special aluminum alloy spun at high speed under intense pressure. This fundamentally alters the molecular properties of the alloy, which creates a much tighter grain structure than found in a standard cast wheel. The resulting mechanical strength allows Beyern manufacturing engineers to reduce the thickness of the barrel, reducing unsprung weight. Because the weight saving occurs to the outermost circumference of the wheel, rotational mass is dramatically lowered, enhancing vehicle performance and handling.
That being said, the Spartan is an especially attractive wheel with its octet of "tuning fork" spokes, and choice of finishes: classic chrome, progressive matte black or in a stunning silver.
For a dealer near you, call 1-800-766-7775 or visit Beyern Wheels on the web at http://www.beyernwheels.com/. Beyern dealers are located throughout North America and worldwide, including Discount Tire Direct on the web at http://www.discounttiredirect.com/.