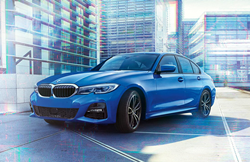 TOPEKA, Kan. (PRWEB) March 29, 2019
When it comes to new model years for vehicles, there are several reasons to be excited. New model-year vehicles always come with a sort of eager anticipation to see what features and performance enhancements engineers and designers have updated them with.
Those vehicles that have been overhauled and brought into a new generation often have even more reasons to be enthusiastic about their release. Often featuring new styling, an updated platform and brand-new powertrain options, these "all-new" models give drivers a glimpse into not only what the manufacturer is capable of but where the entire segment and industry is heading.
It's the models that are brand-new that typically elicit the most enthusiasm from drivers. The staff at BMW of Topeka – a new and used BMW sales and service center in Topeka – are excited to announce that both the all-new BMW 3 Series and BMW X7 are available for test-drive, lease and purchase at the dealership.
To highlight the significant updates made to the 3 Series and to showcase the brand-new X7, sales staff at BMW of Topeka have published pages on the dealership's website which provide plenty of information about each of the new models.
Drivers looking for a small car that sees luxury and performance perfectly blended will love the all-new 2019 BMW 3 Series. Among the highlighted features on this model are a smooth and precise 8-speed Sport automatic transmission, an all-new powertrain that sees the 2019 BMW 330i xDrive hit 60 miles per hour from a dead stop in 5.3 seconds and an extravagant infotainment system.
BMW of Topeka sales staff members are likewise confident that those drivers looking for confident family transportation underscored by BMW performance and luxury will love the brand-new BMW X7. With seating for seven passengers, a three-panel moonroof and advanced active safety features, the 2019 BMW X7 promises to be a solid choice for family driving that doesn't flinch on weekend fun.
Drivers seeking more information or wanting to test drive either of these models are encouraged to visit the dealership's website, bmwtopeka.com, or contact the BMW of Topeka sales team directly by calling 785-266-8480. BMW of Topeka is located at 3030 S. Kansas Ave. in Topeka.