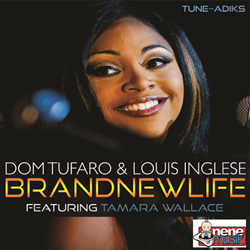 New York, NY (PRWEB) April 14, 2015
Nene Musik Productions is proud to announce its brand new digital music release "Brand New Life" produced by Dom Tufaro & Louis Inglese featuring the soultry vocals of Tamara Wallace.
"Brand New Life" is Tamara's newest single in two years and is already receiving great reaction at live Dom Tufaro DJ sets and spins from top DJ's from across the globe. "Brand New Life" is released worldwide via Nene Musik Productions, Llc. and licensed for 3rd party compilations via German Label - DMN Records.
Mixes include:
1. Brand New Life (Radio Mix)
2. Brand New Life
3. Brand New Life (Instrumental)
About Dom Tufaro:
Dom Tufaro made his DJ debut at Level Lounge NYC. Spinning live for the first time in front of hundreds of club goers, the young Disc Jockey caught the attention of many, near and far. Tufaro's unique style has attracted a number of fans that love not only his style of play, but his creativity as well. He has played at various clubs including Webster Hall, Glo and Pacha's Hilton Beach Party to name a few as well as several venues Internationally Canada and Mexico.
Forming a team with the Tune~Adiks, Dom Tufaro has produced tracks featuring Flo Rida, Snoop Dogg, Sean Kingston Ne-Yo, Amanda Wilson, Lea Lorien and Tamara Wallace. He has multiple releases and remixes including "Here We Go" EP, Dom Tufaro f. Lea Lorien "Love To Life", Po Johnson & Zeke Thomas "Monsters (Be Brave) and the radio hit Dom Tufaro f. Amanda Wilson "In Love Alone".
Collectively the Tune~Adiks are rocking clubs internationally and gaining notoriety as one of the most powerful DJ/Production teams from New York.
About Tamara Wallace:
Singer, Songwriter and Vocalist Tamara Wallace is a true standard in the music business. Known for her past hits with Ralph Falcon and Oscar G (MURK) as Funky Green Dogs "Fired Up!:, "Body", "You Got Me Burning Up". She later had hits as a soloist with Oscar G. "Back To You" & " I'm Moving On". Ralph Falcon "Pressure" and Rosabel "Let Me Be Myself". Today she is recording future hits with Dom Tufaro of Tune~Adiks to be released in 2015.
Download the talented artist's new single "Brand New Life" on iTunes, Amazon, and all major digital retailers.
https://itunes.apple.com/us/album/brand-new-life-single/id977827158
http://www.amazon.com/Brand-Life-Tufaro-Louis-Inglese/dp/B00UWBIIRE/ref=sr_1_4?ie=UTF8&qid=1428348555&sr=8-4&keywords=dom+tufaro+brand+new+life
About Nene Musik Productions, Llc.:
Nene Musik Productions, Llc. (http://www.nenemusik.com) was established in 1989. Today, It is a boutique Artist Management and Consulting Agency that services Recording Artists, International DJ's and Celebrities. Dennis Rodman, Cascada, Justin Quiles and Tune~Adik's Vic Latino are just of few on Nene Musik's client roster. Nene Musik's experience and commitment to excellence have earned them the reputation as one of the best Artist Management / Consulting companies in the World.
For Interviews contact: 1.772.807.8305 or promo(at)nenemusik(dot)com