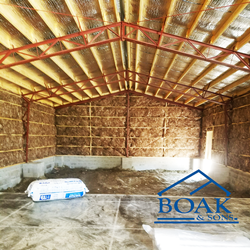 "Insulation is one of the few things a commercial business owner can purchase that eventually pays for itself."
YOUNGSTOWN, Ohio (PRWEB) October 31, 2019
Boak & Sons, Inc. is a roofing, siding, gutter and insulation contractor located in Youngstown, Ohio. As a leading contractor in the Northeast Ohio and Western Pennsylvania region, the company puts emphasis on helping their clients understand the benefits of their services. As the cold weather approaches, Boak & Sons is focusing their efforts on how commercial insulation can help commercial property owners save immensely on heating costs.
Old, rotted, or improperly installed insulation could be costing your business a fortune. The purpose of insulation is to control the temperature of your building by keeping excess moisture and fluctuating temperatures out of the internal structure. Without it, or if there are weak spots and leaks in the insulation, your expensive heat passes right through the walls of the building which vastly increases the amount of heat your building's heating system will need to produce. This puts your heating costs, quite literally, through the roof.
"Being a business owner myself, I understand the importance of keeping costs low where possible," says Sam Boak, president and founder of Boak & Sons, Inc. "Insulation is one of the few things a commercial business owner can purchase that eventually pays for itself. It's a no-brainer for anyone who owns a commercial building, whether it's an office building and you want to keep your employees comfortable or a warehouse that holds your inventory. No matter what you're using it for, temperature control can help you put your hard earned money back in your pocket, not into your heating bill."
Heating and cooling account for a very large portion of a property owner's energy use. By installing proper insulation, you can save up to 50% on your heating costs. The expert insulation contractors at Boak & Sons say that over 80% of the properties they look at have insufficient insulation. Many of the buildings estimated don't even have insulation, but many that do have it still aren't insulated properly.
While many newer homes are already insulated, the US Department of Energy's building codes are always changing. Boak & Sons is always keeping up with the evolving energy awareness by educating their customers on these codes and helping to stay in accordance with them.
Boak & Sons offers a variety of insulation materials to benefit any commercial property, small and large. To learn more about what insulation materials this company offers, click here. For more information about Boak & Sons, visit their website or call the office at 330-793-5646 to speak with a commercial insulation project manager today.
About Boak & Sons:
Boak & Sons, Inc. was founded by Sam Boak in 1974 as an insulation contractor. With the high energy costs of the 70's, Boak & Sons expanded early on into the roofing business. They offered economical roof installations through cutting edge technology and equipment, allowing customers to recoup even more in energy savings. Today, Boak & Sons is a residential and commercial contractor for roofing, insulation, sheet metal, siding, and gutters. Based in Youngstown, Ohio, the company serves customers in surrounding areas from Cleveland, Akron, and Canton to Cranberry and Pittsburgh. For more information on Boak & Sons, visit their website at: https://www.boakandsons.com/