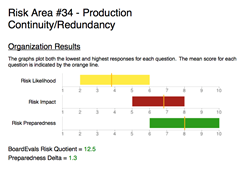 El Dorado Hills, California (PRWEB) March 04, 2014
BoardEvals, LLC, a provider of web-based board evaluation tools, today announced the introduction of a new web-based risk assessment service: the BoardEvals Risk Assessment. This new evaluation tool helps boards and management teams perform more efficient, cost-effective, and thorough enterprise risk assessments.
The BoardEvals Risk Assessment helps boards evaluate a comprehensive list of risks across three dimensions: 1) likelihood of occurrence; 2) impact to the organization; and 3) current level of preparedness. Aggregated scores across all three of these dimensions are factored into an overall, proprietary BoardEvals Risk Quotient (BERQ) that enables organizations to immediately identify those risks that pose the greatest threat, and put corrective measures in place to deal with these risks.
The BoardEvals Risk Assessment replaces the ad-hoc, manual processes used by most organizations today with a standardized, automated risk assessment process that not only improves the effectiveness and repeatability of the process, but also saves time and money. Regular use of the BoardEvals Risk Assessment tool helps boards benchmark their progress over time, and ensures that boards and management teams are adequately addressing those risk factors that present the highest level of threat to their organization.
The BoardEvals Risk Assessment helps meet the market's growing need for improved enterprise risk assessment tools. Given today's challenging legal, regulatory, and competitive environment, more and more boards now view risk assessment and management as mission-critical to the success of their enterprise. When asked what topics they would like to spend more time on, a majority (55%) of public company directors cited "risk management", more than any other area. Similarly, a recent National Association of Corporate Directors (NACD) board member survey found that "risk and crisis oversight" was one of their top 3 priorities.
While boards are now recognizing the importance of an institutionalized risk assessment and management process, most still find their current practices lacking. The latest NACD board survey found that only 28.5% of corporate directors rated the information they receive for risk management as "excellent". The BoardEvals Risk Assessment helps organizations bridge this gap.
"The first step in the implementation of any formal risk management process is an honest, accurate assessment of the risks that an enterprise faces, how damaging these risks could be to the enterprise, and how prepared the enterprise is to deal with them," said Jim Schraith, founder and CEO of BoardEvals. "To address this requirement, we have created the BoardEvals Risk Assessment tool."
The BoardEvals Risk Assessment compliments the existing suite of BoardEvals web-based evaluation tools, including general board evaluations, director evaluations, board committee evaluations, CEO evaluations, and board skills assessments. Like all of the BoardEvals services, the BoardEvals Risk Assessment is an automated, intuitive, web-based solution that offers "anywhere, anytime" availability. The solution establishes a standardized, consistent process that can be benchmarked over time, enabling boards to monitor progress and continuously improve their performance.
The BoardEvals Risk Assessment is available and in use by customers today.
About BoardEvals
BoardEvals, LLC provides web-based tools that help organizations perform more efficient, cost-effective and thorough board evaluations and risk assessments. BoardEvals enables standardized, automated board evaluation and risk assessment processes that save time and expenses, while at the same time improving corporate governance. BoardEvals is a private company based in El Dorado Hills, California. More information on BoardEvals can be found on their website at http://www.BoardEvals.com.
For More Information:
Bob Bennett
Vice President of Marketing
BoardEvals, LLC
866-667-0772
bob(at)boardevals(dot)com