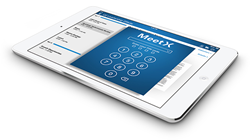 Menlo Park, CA (PRWEB) October 03, 2014
BoardVantage (http://www.boardvantage.com), which serves half the Fortune 500 and is in use in 50 countries, announces MeetX PIN code as an alternative login for the MeetX app.
"When it comes to leadership communication, high-caliber security is a necessity," says Junaid Syed, Chief Technology Officer at BoardVantage. "But execs are often frustrated by cumbersome passwords. That's why MeetX offers a PIN code as an alternative."
The MeetX PIN code functions like the PIN code used with your bank ATM card. It allows users to set up and log in using a numerical code that makes access easier and more secure –something that will be greatly appreciated by executives and directors. The MeetX PIN code is configurable from a minimum of 4 digits to a maximum of 8 digits.
At the same time, the PIN code being tied to the device through a signed private key produces true two-factor authentication, which offers more security than a username/password combination. It also avoids the risk involved when users circumvent password policies by writing down hard-to-remember passwords on notepads or sharing them with others.
About MeetX
MeetX is a secure platform purpose-built for senior leadership collaboration. MeetX moves leadership beyond email, raises visibility and makes meeting outcomes more timely and predictable.
About BoardVantage
BoardVantage leads the market in delivering paperless process for board and leadership communication. Trusted by enterprises worldwide, including half the Fortune 500, BoardVantage sets the bar for a mobile executive experience.
To learn more about MeetX, call +1.877.685.7348 or visit http://www.boardvantage.com/ to schedule a free demo.
Note: all trademarks, trade names, or service marks used or mentioned herein belong to their respective owners.
BoardVantage Media Contact
Rahul Batra
650.614.6096
pr(at)boardvantage(dot)com