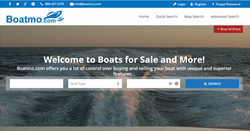 Boatmo.com Now Brings the Advantages of a Growing Boat Seller Network to Individual Sellers
(PRWEB) February 22, 2017
Boatmo.com, a boat directory which works as a common platform for both boat sellers and buyers, recently announced that their individual sellers can now derive benefits from its boat seller network. The directory is now a part of a network of high profile websites which drive traffic to the main directory, which is Boatmo.com itself. The network of the websites works almost in the same manner as real estate directories using MLS data do. As a result, both new and old sellers of the website can now reap significant advantages from the network and find the best buyers quite easily.
Fred Zimwalt, one of the founders of Boatmo.com in a bid to facilitate local buyers and sellers find each other, said that both boat buyers and sellers can now take advantages of the growing network of sellers and boat dealers the website is a part of. However, he added that boat sellers are likely to benefit more from the network as they can now easily find the buyers through the network itself and connecting with the buyers through the network is also pretty easy now. Fred said that their aim now is to enable both buyers and sellers of boats find each other in a more hassle-free way than ever.
Fred Zimwalt also stressed on the importance of signing up as a seller as their registered users get a whole host of benefits by signing up on the directory. He added that the buyers will also find it easier to meet and greet each other through their website as they can now take advantage of the network too.
Boatmo.com now offers advanced boat search features which include map search and custom search options. The owners believe that the addition of the new search features will benefit their registered buyers and sellers even more.
"We want to make Boatmo.com the number one trusted source for boat buyers and sellers who visit us for free boat listing. We know boat buying and selling can be very difficult for both the parties if they fail to find the right platform. We are here to close the gap", said Fred.
About the Company
Boatmo.com is a leading directory for both boat sellers and buyers.
To know more, visit https://boatmo.com/