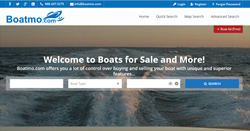 Boatmo.com Announces Improved Photo & Video Uploading With Boat Listings on the Website
Miami, FL (PRWEB) April 14, 2017
Buying or selling of boats and yachts is now a lot easier and attention-drawing with the new and improved photo and video uploading feature added by Boatmo. The website offers listing services for buying or selling of boats, vessels, yachts and other watercrafts. They offer free first time boat listing, allowing a seller to reach the worldwide audience for free.
According to the spokesperson of the website, with better photos and videos with their listings, a seller can better showcase the condition of his/her boat. It could be more convincing for a buyer to see the boat from different angles for making a purchasing decision. The spokesperson stated that new easy to use automated systems instantly format photos for the best quality and performance in each boat or yacht listing. The presence of photos and videos will create a trustworthy business environment for both seller and buyer, and deals will be finalized quickly.
Boatmo.com also offers an advanced search feature, allowing a buyer to quickly find the boat or vessel of his/her choice. The website maintains a vast database of boats and yachts for sale from different manufacturers. The website also offers unique map based and location based search, so that a buyer can find the boats for sale in their nearby location(s). They also have watercrafts in different price ranges. This is the reason why a seller should use their search feature to shortlist boats, yachts and PWC of their buying interest.
Moreover, the website provides detailed listings, with all relevant details of a boat for sale that can help in the decision making. And the inclusion of images and videos make listings complete and more prolific. Moreover, the listing pages are clutter-free and free from ads. The listings and the beautiful images can be accessed on smartphones, tablets and other devices, allowing a buyer to quickly glimpse through the new boats added for sale.
Boatmo.com also boasts of its network of high profile websites that drive traffic to the website, helping to bring buyers and sellers very fast to close a deal. To know more about the website and its features, one can visit https://boatmo.com/.
About Boatmo
Boatmo is the best place on the internet to find and sell Boats, Yachts or Personal Watercrafts (PWCs). The website offers a free boat/yacht listing opportunity and also has special programs for brokers and dealers. They offer the sellers details of the vessel in good faith but cannot guarantee or warrant the accuracy of this information nor warrant the condition of the vessel. A buyer should instruct his agents, or his surveyors, to investigate such details as the buyer desires validated. Vessels are offered subject to prior sale, price change, or withdrawal without notice.
For Media Enquiry –
Contact Person: Fred Zimwalt
Telephone: 888-437-5275
Email: info(at)boatmo.com
Website: https://boatmo.com