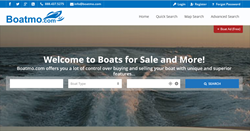 Boatmo.com Offers No-cost Captains Account with Loads of Member Benefits
Charleston, SC (PRWEB) December 13, 2016
Boatmo.com, an online directory that lists boats and yachts of all possible sizes, types and prices, recently announced that new and unregistered users can now set up Captains Account on their portal for free to enjoy significant member privileges. The unregistered users can also list their boat for free or simply use their online directory to find boats nearby or nationally. However, the local boat search engine and directory now offers special benefits to those who sign up on the directory, or create Captains Account for free.
Boatmo.com directory owners maintained that signing up is a particularly easy and straightforward process, and boat owners and prospective buyers don't need to be savvy with the internet to get comfortable with the directory environment or the sign-up process. They added that anybody can now use the advanced search features to find out the boats near them. They also added that map search and city search has been added to the search functions to help prospective sellers and buyers in connecting with each other easily.
Boatmo.com listed boats are now divided in three main categories, namely power boats, sailing boats and PWC or other types of boats. Cruisers, motor yachts, sports fishing boats are all listed under the first category, whereas racers, daysailers and multi-hulls are listed under the second category. Apart from that, the directory also provides information about personal watercrafts, jet boats, utility boats, high performance boats and center consoles.
One of the founders of the directory, Fred Zimwalt, recently talked to the press about the online boat listing service and its membership benefits. "Users who will open Captains Account with us can now save their preferences, visit us again and find boats and prospective buyers more easily than unregistered users. They can also enjoy other membership privileges with casual visitors or users of the directory cannot enjoy. We think Boatmo.com is one of the most user-friendly boat directories or portals on the web at this moment and we will add more user-friendly features to the boat directory to make it advantageous for both boat buyers and sellers", said Fred.
About the Company
Boatmo.com is an online boat directory.
To know more, visit https://boatmo.com/