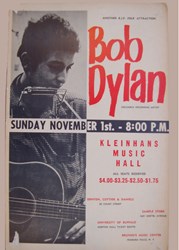 In 1964, Dylan was the largest name to play Kleinhans Hall.
San Francisco, California (PRWEB) January 31, 2014
Serious rock concert poster collector, Andrew Hawley from Vintage Rock Posters, announces his search for original 1964 Bob Dylan Kleinhans Music Hall concert posters in Buffalo, New York. Many top folk acts in the early 1960s played Kleinhans Music Hall. According to Hawley, "Dylan played Kleinhans first in 1964 before a very small crown of people. Kleinhans hosted many popular folk acts in the early 1960s including Peter Paul And Mary, Phil Ochs, And Pete Seeger. Dylan was the largest name to play Kleinhans Hall. Within a year, Dylan's popularity had reached new heights. He came back to Buffalo in 1965 and played to a sellout music hall."
Hawley adds, "The 1964 Dylan poster was printed locally and features an early photo of Dylan with a harmonica. This is not the same photograph used for the 1966 Dylan tour blank. In 1965, Murray Posters of New York started printing the Daniel Kramer photo tour blank. This was the poster used for the second Kleinhans Hall concert in 1965. Both boxing style posters measure 14 x 22 inches printed on thick cardboard. These posters were nailed up to telephone poles or put in storefront windows. During the Dylan's 1965 tour, he played both War Memorial Auditoriums in Rochester and Syracuse in upper New York. For more information about Bob Dylan boxing style posteres, go to http://www.vintageconcertposterbuyer.com/gallery_dylan.html."
Hawley is willing to pay $5,000 for original 1963-1966 Bob Dylan concert posters. Please call 310-346-1965 or email andrew AT vintageconcertposterbuyer.com.