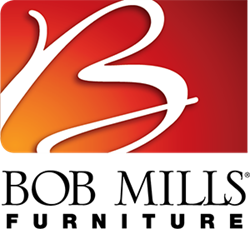 The whole Bob Mills Furniture Family has been anxiously waiting for this day
WICHITA, Kan. (PRWEB) October 29, 2021
Bob Mills Furniture Co., based in Oklahoma City, OK., announces the Grand Opening of their newest store in Wichita, KS. Celebration festivities will commence with a ribbon cutting by the Wichita Chamber of Commerce on Friday, November 5, 2021, at 10 a.m. The new store is located at 11835 E Kellogg Dr, Wichita, KS 67207 within the One Kellogg Place retail development, at East Kellogg Avenue and Greenwich Rd, near Interstate 35 and Highway 54. This will be Bob Mills Furniture's tenth store and first ever in Kansas. The new furniture store features high-quality, high-value living room, dining room, bedroom sets and mattresses. For a full list of festivities, visit: http://www.BobMillsFurniture.com/Wichita
Bob Mills Furniture is pleased to announce a $13,000 donation of new mattresses, box springs and mattress protectors to HumanKind Ministries of Wichita. HumanKind Ministries provides shelter, affordable housing and supportive services to those experiencing homelessness or poverty. Bob Mills says, "Just like HumanKind, Bob Mills Furniture believes we can all 'Discover Better Living', but sometimes you just need a little lift of support and a helping hand. We hope this donation can give some comfort and aid to those in need in the Wichita community."
Bob Mills, President of Bob Mills Furniture says, "The whole Bob Mills Furniture Family has been anxiously waiting for this day. The showroom is gorgeous and filled with IN-STOCK furniture. We've hired some outstanding new employees from Wichita. We have some exciting things instore for our Grand Opening. The first 100 guests each day will receive an exclusive gift valued at one hundred dollars, and because FREE furniture is always better, everyone can spin a wheel for a chance to win mattresses, furniture and a whole lot more." Mills continues, "if you just can't wait, simply go to http://www.BobMillsFurniture.com/Wichita for a chance to win right now."
Mills says, "We believe that our customers deserve a better way to shop for new furniture, and we have several ways to ensure they feel comfortable and special!"
At Bob Mills Furniture, you will never be hassled by "Shopper Stalkers". Those are the pushy salespeople that follow customers around everywhere. At Bob Mills, our Sales Hosts work in a "commission-free environment", so they only help customers when they need help. "I hear all the time how much our customers appreciate this kind of professional sales behavior," says Mills.
Bob Mills Sleep Spa, located inside Bob Mills Furniture, offers the exclusive bedMATCH® system, which takes 18 statistical body measurements along with thousands of calculations to find the proper support level you need while you sleep. Why guess when you can know the right mattress for you?
Bob Mills Furniture employs more than 400 employees, many of them working for the company for more than 25 years. For a full list of open positions in Wichita, go to http://www.BobMillsFurniture.com/careers or email resumes to recruiting@bobmills.com. Bob Mills Furniture Co., L.L.C is celebrating its 50th anniversary and has remained under the same single ownership since Bob Mills started his store at just 23 years old in Oklahoma City, OK. Bob Mills Furniture has ten locations: Oklahoma City, Tulsa, Amarillo, Lubbock, Midland, Odessa, Temple, Waco, San Antonio, and the new furniture store in Wichita. The corporate headquarters are in Oklahoma City with a large distribution center in Fort Worth, Texas.