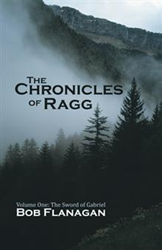 LICHFIELD COUNTY, Conn. (PRWEB) September 22, 2015
In "The Chronicles of Ragg: Volume One: The Sword of Gabriel" (published by Abbott Press), author Bob Flanagan's new novel, readers follow Ragg as he has to choose between fleeing from danger or helping people who need him. "I love thrusting characters into situations that involve choices between two goods," says Flanagan. "Ragg must choose between self-interest and self-sacrifice."
When his entire family is wiped out by a dragon, Ragg is taken over by rage. He sets out on a path for revenge, but discovers he's a key player in a battle of good versus evil. As he continues along his journey, readers are shown the complexities of revenge and the toll it takes on an individual.
An excerpt from "The Chronicles of Ragg":
"Each one of us faces moments in our life when we must make a choice. These moments define us. They tell us who we are. This is one of your moments, Ragg. You have a choice to make. Do you choose courage or fear? Leave this valley now and you will always fear evil. Stay here, go back to the castle and conquer your fear. Life is about facing what you fear. Life is about facing down evil. Courage is acting while facing your fears. You may feel afraid, but courage is the willingness to stand and fight even though you are afraid. If you go to the castle, you may die, but if you run, you're already dead. You'll be consumed with fear and you will never be truly alive again."
"The Chronicles of Ragg"
By Bob Flanagan
Hardcover | 5.5 x 8.5 in | 282 pages | ISBN 9781458210326
Softcover | 5.5 x 8.5 in | 282 pages | ISBN 9781458210333
E-Book | 282 pages | ISBN 9781458210319
Available at Amazon and Barnes & Noble
About the Author
Bob Flanagan is an author, educator and priest. He has worked with teenagers for over 20 years. He resides in Lichfield County, Conn. He is married with two young adult children.
Abbott Press is an Author Solutions, LLC, supported self-publishing imprint dedicated to helping writers bring their literary vision to print. For more information, or to begin publishing a book today, log on to abbottpress.com or call 866-697-5310.