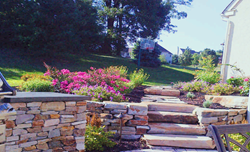 We provide a variety of pavers and rain water harvesting components to capture, store and re-use rain and storm water.
Downingtown, PA (PRWEB) April 27, 2014
The combination of permeable pavers, such as the Eco Brick Paver by E.P. Henry and rain water harvesting is a greener and more beneficial option for the modern home landscape and will dramatically reduce runoff, solving many issues accompanying wet springs and harsh winters. In addition to runoff reduction, this combination eliminates winter icing on walks and driveways and stores the rainwater for a variety of needs such as irrigation, washing cars, and ponds. Eco permeable pavers and rain water harvesting can also provide money saving tax credits and water bill savings.
"Using permeable pavers allows the water to drain into the paving leaving the driveway, patio and walkway clear. Simply remove your snow and the sun will melt the rest. No winter ice means not having to use salt or pay someone to take care of de-icing. Salt and ice melt can damage the average concrete walks and asphalt driveways leading to costly repairs and replacement," said owner, Bob Root. "We provide a variety of pavers and rain water harvesting components to capture, store and re-use rain and storm water."
Bob Root Landscapes LLC offers a variety of services including hardscape design and construction, patios and walkways, outdoor lighting, excavating and grading, storm water management, irrigation installation, outdoor living rooms and kitchens, patio fireplaces, fire pits and fountains, garden ponds and streams, four-season perennial gardens, ornamental plant installation, plant identification and general plant care. They also offer 100% satisfaction guaranteed mosquito and tick control.
In addition to serving the landscaping needs of Chester, Montgomery and Delaware Counties, Bob Root is active in the community and has enjoyed coaching the youth baseball team for the past five years.
Bob Root Landscapes LLC is located at 880 Horseshoe Pike, Downingtown, Pennsylvania, 19345. For more information, please call 610-873-1256 or visit http://www.bobrootlandscapes.com.
About Bob Root Landscapes LLC
Bob Root, Owner, Operator, and President of Bob Root Landscapes LLC, graduated from Delaware Valley College with a Bachelor of Science degree in "Ornamental Horticulture / Landscape Design". He was employed at Waterloo Gardens for seven years followed by owning and operating Esterly-Root Landscapes Inc. for twenty years. Their staff are E.P. Henry and Cambridge Paving preferred contractors with ICPI and NCMA certification. Their skills excel in building natural stone walls and walks as well as boulder walls. They have attended clinics with topics such as nightscaping, aquascaping and irrigation installation, etc. They offer a two-year guarantee on all plant material installed, and a life-time guarantee on hardscapes.
About NALA™
The NALA is a full service marketing agency for local business owners offering new online advertising and small business marketing tools, great business benefits, education and money-saving programs, as well as a charity program.
PR Contact: Tiffani Tendell
ttendell (at) thenala (dot) com
805.650.6121, ext. 361