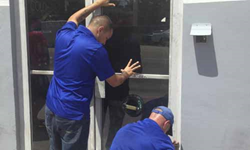 It's so great to see new reviews of our glass repair services on Google+. We have enjoyed reading our customer's unique broken glass experiences, and using the review system as customer feedback
Boca Raton, FL (PRWEB) March 09, 2016
March 9, 2016 - Boca Raton, Florida
Express Glass and Board Up, a top-rated commercial / business glass repair service at http://www.expressglassfl.com/, is proud to announce a new 'pop up' page for Google+ review. With recent changes in reviews by Google, the new format will make it easy for customers to view and contribute to social media concerning commercial or business glass repair services throughout South Florida, including affluent Boca Raton.
"It's so great to see new reviews of our glass repair services on Google+. We have enjoyed reading our customer's unique broken glass experiences, and using the review system as customer feedback," explained Yaniet Santos, general manager of Express Glass. "However, recent Google changes have confused customers on how to find and write reviews. Therefore, to make it easier for other customers looking for help, we've added a new pop up page for Google+ so that reviews are easier to locate."
To read the new Google+ reviews on the "about" page, go to: http://www.expressglassfl.com/boca-raton-fl/. Information about residential and business glass repair as well as 24/7 emergency glass repair is available. To view the new 'pop up' page, interested parties should click on the red 'Google+' icon.
Boca Raton Shop Owners Easily Locate Best in Business Glass Repair Reviews Online
Boca Raton's coastline offers prime business locations for coffee shops, restaurants and specialty stores. Heavy customer foot traffic and Florida weather can create unexpected broken glass emergencies at busy storefronts. Finding a top business glass repair service is important when business glass shatters. Broken glass emergencies in stores happen 24 hours a day. Owners must be ready to respond by quickly contacting a top-rated glass repair service for businesses. The reality is that business owners not only go online, but they eagerly read customer reviews before engaging on glass repair services.
Express Glass & Board Up, therefore, has recently added a 'Pop Up' page to offer quick access to the new reviews. Emergency glass repair for businesses is easier to locate with the new online review page.
About Express Glass and Board Up
Express Glass and Board Up Service Inc. is a family owned and operated glass repair business with more than 20 years of experience. Professional technicians and a large variety of inventory make Express Glass the top glass repair service. If customers are looking for business glass repair in Boca, West Palm Beach glass repair or Ft. Lauderdale glass repair please reach out to the company for a free estimate. If customers need glass repair for businesses in Boca, West Palm Beach glass repair service or Miramar emergency glass repair, technicians are standing by. The company specializes in sliding glass door repair and window glass repair; technicians will handle any glass replacement situation efficiently. Home or business glass repair is the company's main priority.
Express Glass Repair and Board up
http://www.expressglassfl.com/