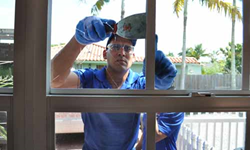 Sometimes Boca Raton customers call us only after an old window in the home breaks. That's when it becomes a 24 hour emergency
Boca Raton, FL (PRWEB) October 17, 2015
Express Glass & Board Up, a top-rated home glass repair company serving Boca Raton Florida at http://www.expressglassfl.com/boca-raton-fl/, is proud to announce new posts for home window glass repair on Google+. Florida homeowners who have questions about 24 emergency home window glass repair and replacement can now find these online, as the company is aggressively using social media - specifically Google+ - to address those concerns with new posts for September and October 2015.
"Sometimes Boca Raton customers call us only after an old window in the home breaks. That's when it becomes a 24 hour emergency," commented Yaniet Santos, general manager of Express Glass, "What they don't know is that if the window glass had been upgraded, it might not have broken as easily. Our new posts explain the importance of cost-saving upgrades to home windows, and are part of our strategy of using social media to make answers instantly available."
Boca Raton residents can view new posts on home window repair posts at: https://plus.google.com/107801082029133286882/posts?gl=US&hl=en-US
The Google+ page describes home window glass repair 24 hour service as well as emergency prevention. Interested parties are also directed to the company website, where they can use the Boca Raton page at http://www.expressglassfl.com/boca-raton-fl/ to click up to the Google+ posts.
Boca Raton Locals Plan for Home Window Glass Repair Before it Becomes a 24 Hour Emergency
Preparing for hurricanes during the Fall season is a normal part of the Boca Raton lifestyle. Home window upgrades may not be a priority on the checklist until one breaks. When hurricane-force winds assault a Florida residence, older, weaker glass is prone to breaking first. Costly water damage from a shattered home window becomes a clear threat. That is when home window glass repair turns into a 24 hour emergency.
Express Glass and Board Up is proud to announce new posts on Google+ about residential window glass repair and 24 hour emergency preparedness. Boca Raton locals can call a window glass repair expert for a storm preparedness inspection any time. Upgrading or replacing older home window glass prior to hurricane season can help prevent further water damage and increase safety. When the call is made early, Boca Raton residents can mark affordable window upgrades off the checklist in time for hurricane season.
About Express Glass and Board Up
Express Glass and Board Up Service Inc. is a family owned and operated glass repair business with more than 20 years of experience. Their professional technicians and the large variety of inventory make Express Glass the top glass repair service. If customers are looking for Boca Raton home window glass repair, as well as home window glass repair in Delray Beach or West Palm Beach, please reach out to the company for a free estimate. If customers need a 24 hour emergency home window glass repair service in Ft. Lauderdale, Boca Raton or Miramar, technicians are standing by. The company specializes in 24 hour emergency sliding glass door repair and home window glass repair; technicians will handle any glass replacement situation efficiently. Home or business glass repair is the company's main priority.
Express Glass Repair and Board up
http://www.expressglassfl.com/