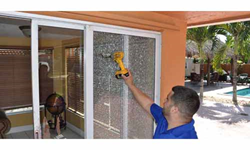 After what hurricane Harvey did to Texas and Irma has done to Florida, we've been getting anxious calls from Boca Raton residents on glass repair services specific to Boca Raton
Boca Raton, Florida (PRWEB) September 27, 2017
September 27, 2017 – Boca Raton, Florida
Express Glass & Board Up, the sliding glass door repair professionals for Boca Raton and all of South Florida, has announced a dual alert for Boca Raton businesses and residents. First, the company is calling attention to its website page for Boca Raton glass repair at http://www.expressglassfl.com/boca-raton-fl/ and urging area residents to first check that page for Boca Raton glass repair services in light of Hurricane Irma. Second, the company is calling attention to its Hurricane Preparedness page at http://www.expressglassfl.com/hurricane-preparedness/ to remind area residents that even after Hurricane Irma, hurricane season 2017 is, unfortunately, not over.
"After what hurricane Harvey did to Texas and Irma has done to Florida, we've been getting anxious calls from Boca Raton residents on glass repair services specific to Boca Raton," commented Yani Santos, general manager of Express Glass. "They are concerned about repairing their homes and what to do in order to prepare for any additional storms. Our new hurricane preparedness page was created to help get the information out, long term, and our Boca Raton page is upgraded to make it easy for area residents to start at the website."
Given the Hurricane Irma recovery efforts, the company is asking Boca Raton customers to prioritize their glass repair service calls. Emergency glass repair customers will, of course, be given higher priority over longer-term repairs that can wait.
Boca Raton Sliding Glass Door Repair Can Bring an Extra Layer of Protection to Hurricane Preparedness Efforts in 2017
Here is some background on this release. Weather experts were astounded at the strength of Hurricane Irma, yet - fortunately - the storm did not score a direct hit against Florida's East Coast. A strong hurricane preparedness plan helped residents minimize damage to a property and allow for less recovery efforts after the storm has passed by. Longer term, the company recommends early evaluation of weaknesses in the home, such as old windows and broken patio doors could help ward off excessive water damage. Sliding glass door repair before evacuating could help. Creating a solid disaster preparedness checklist should be the first plan of action, after Hurricane Irma repairs are done.
Boca Raton residents may not be able to control the wind speed of a hurricane, but can prepare to lessen the impact with emergency sliding glass door repair.
About Express Glass - Boca Raton
Express Glass and Board Up Service Inc. is a family owned and operated glass repair business with more than 20 years of experience. Their professional technicians and the large variety of inventory make Express Glass the top sliding glass door repair service. If customers are looking for Boca Raton glass repair, please reach out to the company for a free estimate. If customers need a 24/7 sliding glass door repair service in Boca Raton, technicians are standing by. The company specializes in glass door repair and window glass repair; technicians will handle any glass replacement situation efficiently. Home or business glass repair is the company's main priority.
Express Glass & Board Up
http://www.expressglassfl.com/
Tel. 561-470-6002