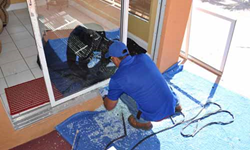 We are passionate about glass repair and about helping our Boca Raton customers use the Internet to stay informed, " explained Yani Santos, general manager of Express Glass
Boca Raton, Fl (PRWEB) August 31, 2015
Express Glass & Board Up, a top glass repair company for home and business serving all of South Florida including Boca Raton, is proud to announce that a milestone has been crossed in its social media efforts for Boca Raton residents. The company's Google+ page has topped 26,000 views in August 2015. This indicates a deep readership in the local community on glass repair issues.
"We are passionate about glass repair and about helping our Boca Raton customers use the Internet to stay informed, " explained Yani Santos, general manager of Express Glass. "By growing our Google+ readership views to over 26,000 in August, this is proof positive of our local outreach and Internet strategy. There is no contradiction between being Boca Raton's 'home town' sliding door repair service and using the global Internet as a publishing medium."
To view the company's Google+ page for Boca Raton, please visit https://plus.google.com/107801082029133286882. To learn more about the company's services, tailored specifically for Boca Raton residents on issues such as repairing or replacing a sliding door, please visit http://www.expressglassfl.com/boca-raton-fl/.
Boca Raton: Local Outreach for Local Glass Customers
The glass repair industry, unfortunately, is dominated by large national players. These companies often are chain-based, and do not have deep roots in the local communities. Their model is one-size-fits-all. As a local South Florida company, in contrast, Express Glass & Board Up works hard to cover the entire South Florida region from Fort Lauderdale to Miami and yet retain a home town feel. As part of this strategy, the company has unique and different Google+, Yelp and other social accounts for each and every community it serves, including Boca Raton. By focusing information on the local community and leveraging the power of the Internet, Express Glass is able to give its customers the best of both worlds in terms of a top-rated glass repair service: a local business orientation yet the use of today's cutting edge communication technologies.
About Express Glass Repair and Board Up
Express Glass and Board Up Service Inc. is a family owned and operated glass repair business with more than 20 years of experience. Their professional technicians and the large variety of inventory make Express Glass the top glass repair service. If customers are looking for Miami glass repair or Miami glass repair as well as glass repair in Delray Beach or West Palm Beach glass repair, please reach out to the company for a free estimate. If customers need a 24/7 Sliding Glass Door repair service in Miami or Boca Raton or Miramar, technicians are standing by. The company specializes in sliding glass door repair and window glass repair; technicians will handle any glass replacement situation efficiently. Home or business glass repair is the company's main priority.
Express Glass Repair and Board up
http://www.expressglassfl.com/