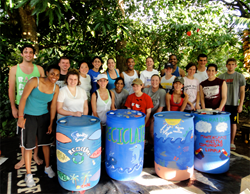 This travelers' philanthropy program is innovative in that, instead of asking travelers to donate, tourism business actually make a commitment to their own community by contributing a percentage of their revenue.
Bahia Ballena, Osa, Costa Rica (PRWEB) July 09, 2014
The Costa Rica - USA (CRUSA) Foundation and its 501(c)(3) partner Amigos of Costa Rica have proudly partnered with Bodhi Surf School to create an innovative travelers' philanthropy program to attract meaningful investments to Costa Rica through the tourism industry. This travelers' philanthropy program is innovative in that, instead of asking travelers to donate, tourism businesses actually make a commitment to their own community by contributing a percentage of their revenue. This contribution is made in the form of a gift card given to the travelers upon their departure, so that the travelers' redemption of the gift card serves as a symbolic gesture of their own connection to the destination that they have visited. The travelers will also have the opportunity to make their own additional contribution to amplify their impact.
CRUSA's partnership with Bodhi Surf is aimed at creating a replicable pilot program that, when results are analyzed and improvements are made, can be expanded at the Osa - Golfito regional level, the Costa Rican national level, and potentially at an international level.
In an effort to further support marine conservation and to preserve the nature and history of a rural town on Costa Rica's southern Pacific coast, Bodhi Surf has formalized a travelers' philanthropy program, which officially launched on Friday, July 4th, 2014. Bodhi Surf School, located in the community of Bahia Ballena, was founded by a group of individuals committed to making their business a part of the responsible economy to protect nature and contribute to the responsible development of the community. Bodhi has always implemented their own community initiatives, as well as invested a percentage of their sales into community projects, but with this opportunity to partner with CRUSA, Bodhi Surf has sought to formalize a travelers' philanthropy program to involve their guests and to systematically track impact.
Bodhi Surf School's Travelers' Philanthropy Program is part of their Ocean Guardian Journey, the company's larger corporate responsibility agenda. The program's name stems from the surf school's commitment to utilizing surfing as a mechanism to raise awareness about marine conservation and leverage the experience into everyday stewardship. Bodhi, a Sanskrit word that means awakening, is focused on creating an experience for guests that will set them on a journey to awaken their inner connection with nature.
This journey starts with guests choosing to vacation with Bodhi Surf after reading about Bodhi's commitment to the community and to being a responsible business. Often, guests choose a surf and yoga package; it is through surfing that guests experience the marine ecosystem of the Marino Ballena National Park, and by practicing yoga at the open-air Bodhi Shambala Yoga Center that they get their mind and body in tune with nature. The journey in Bahía Ballena also takes guests on a community walking tour through which they learn about the town's history, find out about local nonprofits' work, engage with local residents, among other activities. At the end of their stay in Bahia Ballena, guests are invited to become an Ocean Guardian by signing the Ocean Guardian Pledge, which is intended to inspire individuals to make daily choices and behavioral changes to reduce their carbon footprint.
In traditional travelers' philanthropy programs guests are asked if they would like to make a donation contribution in addition to the cost of their vacation. However, Bodhi Surf School values the vacation spending that guests have already made and shows its appreciation through a donation gift card which guests may redeem by contributing to one of the participating NGOs. Redeeming this gift card is a symbolic gesture of the guest's support for Bodhi Surf's work, and they will also have the opportunity to make an additional personal contribution if they wish.
Bodhi Surf School has identified three nonprofit organizations in Bahía Ballena - Uvita to receive the funds collected through the Ocean Guardian Journey travelers' philanthropy program. The nonprofits include:
° Keto Foundation, which aims to help marine-based tourism businesses implement, monitor, and evaluate best practices for marine tourism.
° Geoporter, which uses geospatial technology to empower community members to identify environmental issues and make informed decisions and solutions
° Forjando Alas, which provides an after-school center for children to learn English, technology skills, conservation best practices and more.
Collaboratively, the work of all three organizations empower individuals, local businesses, and community based organizations to protect, conserve, and improve management of their local marine ecosystem.
It is CRUSA, Amigos of Costa Rica, and Bodhi Surf School's shared hope that this pilot program will serve as an innovative travelers' philanthropy model for other tourism businesses to replicate.