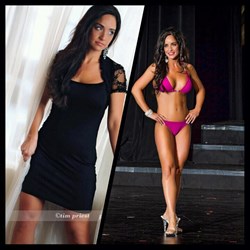 "I am in awe that I was chosen as a finalist for Latino Vi- Model. Regardless who they choose as the winner, I will come ready!" - Cindy Taylor
Grand Rapids, Michigan (PRWEB) November 05, 2013
On October 29th, 2013, ViSalus Founder, Blake Mallen, announced the Vi Model Finalists for the Latino edition of The Challenge magazine. In the list of six male and six female finalists was Body By Vi Dream Team's own Cindy Taylor. Cindy remained in the top 10 on the Latino leader board for the entire week of voting, and her tally of votes have earned her the chance to compete live, onstage, at the Vi Model Finals in Atlanta in November.
Cindy Taylor is a mother of 4, and a Presidential Director with ViSalus. She and her husband, Two-Star Ambassador Skip Taylor, were Body By Vi Champions in 2010. The couple are a testament to the Challenge and the amazing transformations that can be achieved by taking the Body By Vi Challenge. They have been featured in ViSalus magazines, videos, and sample kits for the past three years, and they have been an inspiration for hundreds of thousands of challengers.
Cindy Taylor has been training for beauty contest competitions for the past year, using the products of the Body By Vi Challenge, in addition to the support from the Challenge community. At 37, she is the embodiment of the Challenge, and her transformation is an authentic result of the Challenge. Cindy is currently the reigning Mrs. Kent County Michigan, and she placed first in the NPC Bikini Championships and, in addition, she has competed in the Mrs. Michigan United States competition earlier this year. Cindy's family was originally from Mexico, and she represents the diversity of the Latino community.
The winners for the Vi Model competition for all categories will be announced at ViSalus' National Success Training at the Georgia World Congress Center in Atlanta on November 15-17, 2013, which is expected to have over 10,000 people in attendance. Male and female Vi Model Finalists from the four markets -- North America, Latino, French Canadian, and United Kingdom -- will be competing for the Vi Model crown. The winners will be featured on the cover of Challenge magazine and receive a professional photo shoot with celebrity photographer Mike Ruiz and an exclusive modeling contract with Silver Model Management.
To learn more about The body By Vi Challenge, the #1 Weight Loss and Fitness Platform in North America, contact Cindy Taylor at http://www.MIBodyByVi.com.