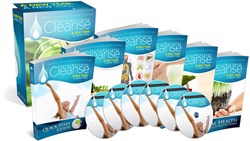 I never realized how toxic my body actually was. This Body Toxin Assessment opened my eyes to the harmful effects of chemicals and toxins present in food, water, and air.
New York, NY (PRWEB) January 05, 2014
The Detox Dieter provides access to a new 30-second free Body Toxin Assessment, plus shares access to three trainings on how to reduce toxin exposure, eliminate built-up toxins, and nourish the body to lose weight and feel more energized.
People spend billions of dollars on health and wellness products, yet people are more obese and in worse health than ever before. Nearly 29 million people in the United States suffer from diabetes, 38% of adults are obese, and nearly 600,000 Americans die from heart disease each year.
A major contributor to the drastic increase in obesity, diabetes, metabolic syndrome, and heart disease are the massive number of toxins present in the air, food, and water used each day.
The short, 10-question Body Toxin Assessment assesses the body's current level of toxicity and provides helpful information about ways to lose weight, have more energy, and improve overall health and quality of life.
Humans are exposed to a tremendous amount of harmful toxins and chemicals every day. The Body Toxin Assessment details how toxins are affecting important systems in the body and provides information about three powerful foods that remove dangerous toxins from the body.
Total Wellness Cleanse's 30-second Body Toxin Assessment can be found at: http://detoxdieter.org/Body-Toxin-Assessment/.
About: DetoxDieter.org is a new website that was launched in December 2013 in order to educate the community of the health benefits associated with detox and body cleanse. Most recently, Detox Dieter released a video titled "Top 5 Tips For Everyday Detox."