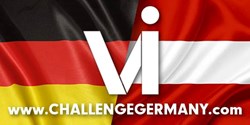 We are thrilled to help the people of Germany & Austria to achieve their weight loss and fitness goals, just as we have helped millions across North America. The Body By Vi Challenge is proven and guaranteed ~ there is nothing to lose, but the weight!
Tampa, Florida (PRWEB) January 17, 2014
The Body By Vi Dream Team is enthusiastic about the launch of Vi Germany & Vi Austria, as Vi expands into the European market. The Vi Dream Team was founded by Ambassador & Challenge Champion Melanie Milletics in 2009 with the launch the Body By Vi Challenge. The Challenge is now the #1 Weight-Loss and Fitness platform in North America, and with the new launch, is poised to be the #1 weight loss program in Germany & Austria as well.
Vi has been preparing to launch the Body By Vi Challenge in Germany and Austria for 2 years, with the intention of having the most successful launch of a Direct Sales company in the region. The Vi Dream Team is pre-launching Vi Germany & Vi Austria now, and Body By Vi Challenge kits will begin shipping February 15th, 2014.
The population of Germany & Austria is 50% overweight, and the Vi Dream Team intends to bring the #1 Weight loss & fitness platform to the people, as a solution that has already been proven by 3 million people the US, Canada and by their neighbors in Vi UK.
" Yes, The Challenge offers a product line that is superior to its competitors in the industry, and stands on its efficacy with a 90 day results guarantee. There is an online suite of social media applications and resources to help Challengers with Vi Germany to track their Challenge and get the best weight loss results on their 90 day Challenge. Add to that the excitement of potentially winning over $100 million in prizes, and the high energy and fun community of Body by Vi Challengers, and you have a recipe for success." Melanie Milletics, Vi Ambassador and Body By Vi Champion
The Vi Dream Team welcomes the new Challengers and Promoters from Germany and Austria to our winning team. Two-Star Ambassador and Body By Vi Active Couple Champion Melanie Milletics is looking to both help you meet your Challenge goals, and help you to achieve success as a Vi Promoter.
Individuals who wish to take the Body By Vi 90 Day Challenge can now order online at http://www.ChallengeGermany.com and have their Challenge kits shipped direct to their address in Germany or Austria. Weight loss clinics, health clubs, group fitness instructors and personal trainers can contact Body By Vi Germany for distributorship information at the same online address.