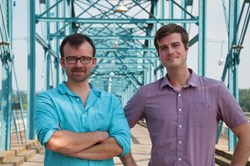 Chattanooga, TN (PRWEB) September 18, 2013
The belief that the most forward-thinking brands recognize the need to evolve their core offerings, not just advertise finished products, has driven the launch of Humanaut, an agency that makes and launches its own products and brands.
The company – a Brand Invention Agency – works with start-ups and helps established brands hold onto brand equity by creating new, engaging product experiences. The company already has amassed an impressive portfolio of work, ranging from a Super Bowl spot to a top rated iPad app. The latter, known as Felt, lets users write and send handwritten cards through postal mail, and it debuted among the top 15 free iPad lifestyle apps. Felt is one of three start-up ventures for which Humanaut did the branding, design, marketing and user experience.
"Everyone is saying big brands need to start thinking like start-ups, but the reality is they both have a lot to learn from each other," Founder and Creative Director David Littlejohn says. "A loved brand that hasn't innovated its product experience is in danger. A start-up with sexy tech but no soul is also in danger. There's this big space that's opened up between ad agencies and digital development companies, and we're filling that void."
Humanaut also helped SodaStream launch their newly designed home carbonation system into the spotlight during this year's Super Bowl, as part of a re-branding campaign. After their TV ad was allegedly banned from the game by CBS for calling out competitors, it racked up nearly 5 million views on YouTube, created a press flurry and doubled product sales following the big game.
The agency is backed by former advertising executive Alex Bogusky, named "Creative Director of the Decade" in 2010 by Adweek magazine and one of the world's most forward-thinking creative leaders. Last year, he backed Boulder, Colo.-based Made Movement, an effort to create jobs and bolster America's economy by supporting U.S.-made products. As with Made Movement, Bogusky serves as an advisor and investor to Humanaut.
"I've been fortunate enough to surround myself with great talent in my career and many of those folks now run huge agencies," explains Bogusky. "But the combination of talent and entrepreneurial spirit that exists in David and his partner Andrew is so rare I just can't pass up the chance to be involved. I look forward to advising a bit and learning a lot."
Through Bogusky's involvement, Humanaut carries an angel fund that will make early investments in start-ups and offer these companies Humanaut's creative services. In addition to working with clients, the agency will provide any start-up it invests in with design, user experience, brand consulting expertise and, if needed, office space. Humanaut's portfolio of client work and start-up investments is growing, and includes two compelling new ventures: Swoop, which allows users to sell seats at sporting events once they are inside the venue; and A Brain is For Eating, a children's book for zombies, which the company recently published.
ABOUT HUMANAUT
Humanaut is a Brand Invention Agency with clients that include Friends of the Earth, Live Nation and SodaStream. Humanaut is headquartered in Chattanooga TN, a city known for outdoor adventure, a budding start-up scene, and the country's largest and fastest fiber optic smart grid, offering internet at incredibly high speeds. The agency is currently looking for talented designers, front-end developers, and writers to join their team. More details are at Humanaut.is.