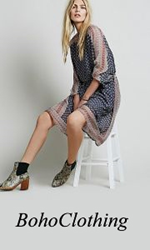 It is for those romantic creatures, who appreciate natural fabrics and who want to highlight their trendy image with exquisite clothes
Los Angeles, CA (PRWEB) November 26, 2014
The founders of BohoClothing, a website that features a wide variety of attractive and stylish Bohemian clothing items including tops, maxi dresses, footwear and much more, are proud to announce the launch of their new website. For people who love the look of Boho clothing, the site is a one-stop fashion shop.
In addition to featuring a large selection of Bohemian clothing, the website also includes a handy rating system, as well as in-depth articles that help explain what Bohemian clothing is all about. As the company continues to grow, the founders of BohoClothing plan to expand the website even more.
As a spokesperson for the website explains, the term "Bohemian clothing" refers to the name Bohemia, a region that long ago was inhabited by gypsies—a group of people who are still famous for their love of freedom. With this in mind, modern Boho clothing is free and stylish as well as romantic and features a variety of lovely fabrics.
"Fashionable boho clothing combines burlap and chiffon, light cotton fabrics and fur, different ethnic motifs, including gypsy motifs, with their long wide and multi-layered skirts with frills," the company spokesperson said, adding that Bohemian clothing creates a very feminine, harmonious and attractive image. "It is for those romantic creatures, who appreciate natural fabrics and who want to highlight their trendy image with exquisite clothes."
Shopping for new outfits at BohoClothing is fun—the only difficulty might be deciding which clothes to buy first. The website is easy to navigate and features some of the most popular items on the home page, as well as handy tabs at the top that will allow shoppers to browse for bottoms, footwear, swimming items, jewelry, accessories and much more. When shoppers see an article of clothing that they wish to purchase, they simply need to click on the "go to the store" button and they will be taken to another site that sells that particular item.
For example, the LA Hearts Boho Celestial Raglan T-Shirt has been a popular item with visitors to the BohoClothing site; priced at $25 the lovely shirt comes in a gorgeous deep red color and features a crew neckline and 3/4 sleeves.
About BohoClothing:
BohoClothing is a new website that features a wide selection of all sorts of Bohemian Clothing. Although the site is relatively new, it has already become very popular with shoppers who are looking for this comfortable and fashionable style of clothing. For more information, please visit http://bohoclothing.net/