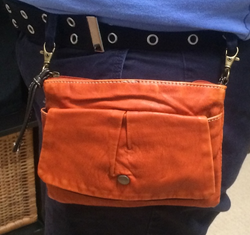 Since it's inception, Boho Hp Purse has proved to be a major sensation!
Portsmouth, NH (PRWEB) November 04, 2014
Nifty-Nifty.com, makers of innovative, hands-free, fashion accessories, is incredibly pleased to announce the success of their uber-groovy cross body hipster, the Boho Hip Purse.
"Since its inception, one short month ago, our Boho Hip Purse has proved to be a major sensation with Nifty consumers near and far," says Nifty-Nifty.com co-founder, Wendy Miller. "We attribute the Boho Cellphone Hip Bag's success to its ability to fit any sized cell phone, including the iPhone 6 and 6 Plus with ease, as well as to its unique retro chic design. We are absolutely smitten with it, and are thrilled that our clients feel the same way."
Discover Nifty-Nifty.com's top-selling Boho Hip Purse, here:
http://www.nifty-nifty.com/boho-hip-purse-crossbody-hipster/
Boho Hip Purse/Cross Body Hipster is a brand new cell phone carrier with a modish vintage vibe. Constructed of tough, but buttery soft, leather-like material, with mock worn edges, this little gem is the quintessential cell phone carrier for the discriminating consumer.
Complete with 3 zippered compartments, plus a magnetic snap close cell phone pocket (large enough to fit even the biggest cell phones), and adorned with gold-toned hip clips and hardware, the Boho Hip Purse is the perfect complement to any business or casual attire.
Measuring 7.5 inches across and 5.5 inches high, and available in a wide range of amazing colors, including; Jumping Jack Black, Far Out Brown, Floor Me Orange, Right On Red, Primo Pink and Neato Green, the Boho Hip Purse, which can be worn a variety of ways, is certain to satisfy each consumer's unique sense of style. Stop by Nifty-Nifty.com today, to learn what the Boho Hip Purse is all about!
About Nifty-Nifty.com  
Nifty-Nifty.com caters to a diverse clientele from all over the globe. As the world's leading online retailer of innovative, versatile products, Nifty-Nifty.com specializes in nifty products such as Biker Purses, Phubby Wrist Cellphone Holders, Specs-in-a-Sec magnetic eyeglass holders, Cell-Fie HipBand Cellphone Holders and Cross Body Cell Phone Purses, among others. All products are offered at highly competitive prices with zero charge shipping in the USA and Canada.
http://www.Nifty-Nifty.com 
Tel. 858-248-2302