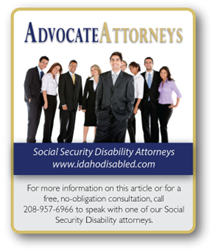 Our Social Security Attorneys are aggressive, experienced and compassionate.
Boise, ID (PRWEB) February 06, 2014
Advocate Attorneys – Disability Lawyers, a highly successful firm of Social Security Attorneys, specializes in assisting the disabled in obtaining their Social Security Disability benefits. Advocate Attorneys works with claimants throughout the disability application process, including preparing high-quality cases for disability hearings. Because Advocate Attorneys specializes in Social Security Disability, claimants are assured they will have a knowledgeable Social Security Disability lawyer prepare their claim.
Advocate Attorneys offers claimants a no-obligation consultation to determine if they are disabled. Once it is determined that a disability exists, Advocate Attorneys works closely with claimants, their doctors and their families to prepare their claims so that Social Security can clearly see their disability. Claimants are not charged a fee unless they win their benefits.
Although in 2013 Advocate Attorneys helped more claimants get their Social Security Disability benefits than ever before, they saw the number of people applying for disability decline. Social Security's recent data shows a continuing downward trend in the overall number of Social Security Disability applications. This seems to provide some evidence that the American job market is improving as the number of applications for Social Security Disability benefits tends to follow trends in the unemployment rate. It appears that this downward trend in disability applications is continuing into 2014 as well.
"If the number of Social Security Disability applications is an indication of how the economy is really doing, it appears that we are in fact seeing a real improvement in the economy rather than simply folks falling of off unemployment or changes in the way unemployment is calculated," stated Michael Whipple, one of the Boise Social Security attorneys with Advocate Attorneys—Disability Lawyers, "which is a good thing for us. Disability lawyers don't necessarily like to see high unemployment, even though our phone rings more, because with low unemployment, we spend less time determining whether someone with impairments is simply unemployed or is disabled and unemployable."
From 2008 through 2010, the number of applications for Social Security Disability increased an average of 10.5% each year, with most of that increase coming in 2009, when applications increased 21%. The upward trend in Disability applications reversed in 2011, with Disability applications in 2011 and 2012 decreasing an average of 2%. Then in 2013 the number of Disability Applications dipped dramatically. Social Security reports that the number of disability applications decreased by 9% in 2013. This decrease in the enrollment rate may help to extend the DI Trust Fund past 2016, when it is estimated that the fund will be exhausted.
Economists have long observed a relationship between the number of Social Security Disability applications and the unemployment rate. Economists David H. Autor and Mark G. Duggan have found that "Disability Insurance Applications typically rise and fall with the unemployment rate." Social Security's Chief Actuary, Stephen Goss explains, "The very recent recession of 2008-2009 resulted in an increase in disability incidence that was exceeded only by the incidence rate in 1975." He stated that, "When employment is good, when employers are trying to employ lots of people, people with impairments, like everyone else, find it easier to find a job."
And these recent patterns in disability applications seem to follow the unemployment rate fairly well. 2009 saw unemployment from the recession reach its peak at 10%, as reported by the United States Bureau of Labor Statistics. Unemployment has fallen steadily since that time, with the most dramatic improvements in 2013. The reported rate for unemployment was 6.7% for December 2013.
About Advocate Attorneys—Disability Lawyers
Advocate Attorneys—Disability Lawyers is a Social Security attorney firm providing legal counsel focusing on the Social Security Disability benefits application process. They are aggressive, experienced and compassionate. Disability is the sole specialty of the firm. Individuals can receive assistance through all stages of their disability claim from expert Social Security attorneys. They are also able to receive an evaluation of their case from a Social Security Disability attorney to help them to determine if an application for Social Security Disability makes sense for them.
Advocate Attorneys—Disability Lawyers
Mailing Address:
1533 N. Milwaukee #120
Boise, Idaho 83704
http://www.idahodisabled.com
208-957-6966