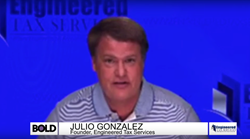 "Tax Reform 2.0 is about changing and evolving tax reform annually."
WEST PALM BEACH, Fla. (PRWEB) July 20, 2018
On July 6, 2018, Julio Gonzalez, tax reform expert and CEO of Engineered Tax Services, Inc. (ETS), appeared on Bold TV to discuss Tax Reform 2.0 and why the U.S. government should revise the tax code annually. According to Gonzalez, the next phase of tax reform helps middle class Americans through lower tax rates, increased tax deductions, and a simplified system for filing their returns.
Julio Gonzalez explained to co-hosts Carrie Sheffield and Alice Anil, "Getting money to the middle class through lower income tax rates and companies that are paying more money because they have more money to pay is a good thing."
Based on the most recent budget bill passed by Congress; Sheffield discussed the impact of tax reform on the national deficit. Gonzalez pointed out how annual tax reform can play a vital role in balancing the budget and decreasing the national debt.
"Tax Reform 2.0 is about changing and evolving tax reform annually so that if it's not working and if there are corrections to be made, we can make changes in real time," said Gonzalez. "Let's do it [tax reform] more consistently so that we can fine tune the tax code and make sure that the investment of taking on more debt is worth it so we can get more money to the treasury and pay down the debt ultimately."
This message reached more than 200,000 people through views of the live broadcast and shares on social media platforms Facebook and Periscope. Iraq and Afghanistan Veterans of America, Billy Hallowell, and Bookstr topped the list of users who shared the segment with their followers.
Engineered Tax Services, Inc. (ETS) is a licensed engineering firm that focuses on federal, state, and local tax benefits. Founder and CEO, Julio Gonzalez, is an expert in tax reform whose strong presence is helping define our current tax laws. Under Gonzalez's guidance and true insight into how the industry is shaping, Engineered Tax Services is one of the largest, fastest growing, and most innovative engineering, energy, and specialty tax credit services firms in the country. Visit us at https://engineeredtaxservices.com.