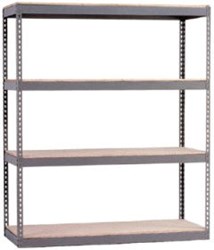 The reason we are making the Rivet Rack product of the day is because it is our most popular boltless shelving unit
Phoenix, Arizona (PRWEB) September 07, 2013
Today's product of the day is a very interesting item. This item can actually be found in the A Plus Warehouse homepage when looking under the interesting products tab. It is item number 10. This product has been very popular among A Plus Warehouse customers. This is why the company is making it product of the day. Today's product of the day is the rivet rack. According to Ed Stairman, president of A Plus Warehouse, "The reason we are making the Rivet Rack product of the day is because it is our most popular boltless shelving unit."
Although the rivet rack is the most popular of A Plus Warehouse boltless shelving, it is not the only one. Other products in this shelving line include but are not limited to record storage racks, extra deep chrome wire shelving, heavy duty bulk storage racks, Tennsco bulk storage racks, and several others. A customer may be asking some benefits of boltless shelving. Using boltless shelving is an efficient way to store inventory and equipment. Boltless shelving is made from uprights and components that would be equivalent to a regular shelving frame. Because this shelving is mostly open air, the price is less expensive than other products. This type of industrial shelving also has a very large width available. Boltless shelving is known as wide span shelving in many cases. The company stocks as wide as 8 feet. It should be noted that boltless shelving is only used for hand loaded storage only. This item has a lower capacity, but is more than enough for many customers. If a customer has questions they should ask A Plus Warehouse's friendly sales people.
It is now time to discuss the rivet rack. This item is 7 feet tall and includes 3 levels. The picture to the right shows the rivet rack with an extra shelf. This item has a capacity as high as 1,200 pounds. It is also available with wire decking, particle board, or no decking at all. A Plus Warehouse is all about giving customers options. Brackets are also suggested for added stability and tie plates to connect units. Label holders are also available as well as rubber mallets for easier assembly. Customers should order this product today.
A Plus Warehouse is the operator of http://www.apluswhs.com and distributes materials handling and storage equipment nationwide and throughout Canada. The sales staff at A Plus Warehouse is available at 800-209-8798. A Plus Warehouse has been in constant operation since 1996.