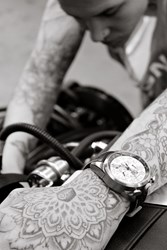 "I am so grateful to Bomberg for the opportunity and am really excited about visiting the Bomberg team in Switzerland to create my own custom timepiece. It just goes to show, hard work pays off." - Ben Hulme Founder Of Scaleogy Ltd
London (PRWEB UK) 19 September 2013
Scaleogy.com has announced that they won the #DefyConformity campaign for Bomberg watches. Ben Hulme from Scaleogy was sent a Bomberg 1968 timepiece direct from the Bomberg factory in Switzerland.
With this he and several other bloggers were asked to enter a competition to work on the #defyconformity campaign. The task was to create a photoshoot with a model that 'defies conformity'. Ben and the team at Scaleogy certainly delivered. You can see the photoshoot here: http://scaleogy.com/the-bomberg-1968-timepiece-defy-conformity.
The competition was a huge success with some incredible photos coming from the bloggers. But Ben Hulme and the team at Scaleogy.com won after being reviewed by a panel of selected judges.
"I was honoured to be invited to take part in this competition, to be sent a Bomberg 1968 was a real honour and to have won is just awesome. I am so grateful to Bomberg for the opportunity and am really excited about visiting the Bomberg team in Switzerland to create my own custom timepiece. It just goes to show, hard work pays off," said Ben Hulme, the founder of Scaleogy Ltd.
Scaleogy won a fantastic prize for being part of the competition, a once in a lifetime trip to Switzerland to have a tour of the Bomberg factory and to design their own custom build Bomberg timepiece. They will also be enjoying dinner with the designer of the Bomberg 1968 watch and other memebers of the Bomberg team.
This news comes after a series of successes for Scaleogy Ltd. After they raised round one venture capital and also after winning the Ciclotte.com competition for one of their marketing campaigns. This makes Scaleogy a force to be reckoned with in the world of Luxury Lifestyle.
You can find out more about Bomberg at their website http://www.Bomberg.ch and Scaleogy at http://www.Scaleogy.com.