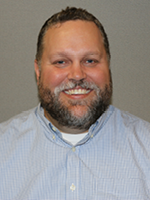 ANNAPOLIS, Md. (PRWEB) September 24, 2019
BOMI International, the Independent Institute for Property and Facility Management Education, is pleased to announce the hiring of Blake Wilson as business development manager, representing the Central and Southern United States.
With extensive experience in account management and business development, Wilson is an awarded account executive. He served in numerous roles for 19 years at NTT Training, most recently as director of sales.
"Blake's consultative approach, coupled with 20+ years of experience in industrial training, makes him the ideal fit for BOMI," said Krissi Magistro, BOMI International's sales and marketing director. "His ability to strategize with customers and develop key sales initiatives will have a positive impact on our clients and BOMA Local organizations."
As business development manager for the Central and Southern territory, Wilson will develop a regional strategy and support initiatives for client management and acquisition in Alabama, Arkansas, Florida, Georgia, Iowa, Kansas, Kentucky, Louisiana, Mississippi, Missouri, Nebraska, New Mexico, North Carolina, Oklahoma, South Carolina, Tennessee and Texas.
"Adding value and helping our clients achieve their goals speaks to the core of my professional career. I look forward to utilizing my background with educational programs in the commercial real estate marketplace to create meaningful solutions for our partners in education," stated Wilson. "Training and education can change a client's outcomes, and I'm excited to assist BOMI's clients in achieving their objectives," he added.
To contact Blake Wilson, please email bwilson@bomi.org or call (303) 503-2522.
About BOMI International
BOMI International, a nonprofit educational organization founded in 1970, provides critical education and expertise to industry personnel with property, facility, and building systems management responsibilities. As the Independent Institute for Property and Facility Management Education, BOMI International delivers courses, certificate programs, and industry-standard designations—Real Property Administrator (RPA®), Facilities Management Administrator (FMA®), Systems Maintenance Administrator (SMA®), Systems Maintenance Technician (SMT®), and the High-Performance Sustainable Building designation program (BOMI-HP®)—with a proven record of increasing job performance and company efficiency. More than 28,000 industry professionals hold one or more of BOMI International's credential, and more than 95,000 property and facility management professionals have turned to BOMI International for their continuing education, professional development, and staff training needs. To learn more, please visit http://www.bomi.org, call 1.800.235.BOMI (2664), or email service@bomi.org.