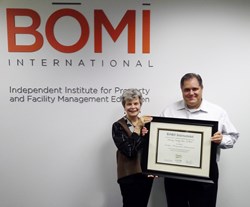 Annapolis, MD (PRWEB) December 17, 2013
The BOMI International Board of Trustees recently presented Stormy Friday, Founder and President of The Friday Group, with an honorary Facilities Management Administrator (FMA) designation.
"I am pleased to announce Stormy Friday as the first-ever honorary FMA designee," said Greg Grainger, Chairman of the BOMI International Board of Trustees. "This honor serves as a symbol of thanks for her many years of dedication and contributing efforts that have helped enhance BOMI International's educational programs for facility management professionals."
Stormy Friday formed The Friday Group—a firm that specializes in strategies and solutions for the facility management profession—in 1989 after 20 years of diversified management, consulting, and facilities experience within both corporate and governmental settings.
Prior to forming The Friday Group, Ms. Friday was Director of Contracts and Government Marketing for a design/build firm specializing in high-tech facilities. She also worked for five years as the appointed Director of Facilities and Support Services at the U.S. Environmental Protection Agency (EPA), where she was responsible for over four million square feet of laboratory and office real estate.
Ms. Friday formerly served on the BOMI International Board of Trustees, chaired the organization's Academia Committee, and helped facilitate the Facilities Professional Leadership Series—a webcast created by BOMI International and TradePress. She has also served on the IFMA Board of Directors as the Director of Affiliate Affairs, on the faculty of the University of Manitoba in the graduate Facility Management Program, and as adjunct faculty for the Michigan State University Masters Level Certificate Program in facilities management.
Additionally, Ms. Friday co-authored a book entitled Quality Facility Management: A Marketing and Customer Service Approach (Wiley), authored Organization Development for Facility Managers: Tracing the DNA of FM Organizations (AMACOM), and received the IFMA Distinguished Author – Instruction Materials Award in 2002.
About BOMI International
BOMI International is the premier international provider of educational products and services to the property and facility management industries. As the Independent Institute for Property and Facility Management Education, BOMI International is a not-for-profit educational institute dedicated to improving the skills of professionals with property, facility, and systems responsibilities. BOMI International is known for industry-standard designations—the Real Property Administrator (RPA®), the Facilities Management Administrator (FMA®), the Systems Maintenance Administrator (SMA®), and the Systems Maintenance Technician (SMT®). More than 26,000 building professionals hold one or more BOMI International designations, and over 84,000 students have turned to BOMI International for premier education and training. For more information, e-mail service@bomi.org, visit http://www.bomi.org, or call 1.800.235.BOMI (2664).
###