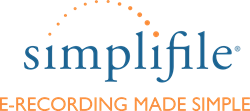 Our goal is to help both parties save time and money by e-recording as well as improve their overall office operations.
BONNER COUNTY, Idaho (PRWEB) January 02, 2014
Bonner County has initiated electronic recording (e-recording) of land documents with Simplifile, the nation's largest e-recording service provider, giving customers the ability to record documents more quickly and conveniently via the Internet.
According to Bonner County Clerk Ann Dutson-Sater, local title companies requested that the county make e-recording available, as they had already been e-recording with other counties throughout the state.
With Simplifile's e-recording service now available, the title companies won't have to drive to the recorder's office or send document by mail or courier service; they can submit their paperwork electronically and have their documents recorded, stamped, and returned back from the county in minutes.
"Title companies will no longer hold their paperwork until 4:30 p.m.," Dutson-Sater said. It is at this time when the title companies usually "rush over to the recorder's office" and hand her staff a large stack of papers to be recorded, causing the staff to often work overtime trying to get the documents recorded the same day.
E-Recording will help reduce this recording "rush hour" at the county as well as save time and money.
"The convenience and ease of use benefit both the county and the customers who are submitting their documents," said Paul Clifford, president of Simplifile. "Our goal is to help both parties save time and money by e-recording as well as improve their overall office operations."
Other benefits of e-recording include reduced paper waste, fewer rejected documents and fewer payment errors, as recording fees are securely processed through an electronic funds transfer, or Automated Clearing House.
With the addition of Bonner County, just over 84 percent of Idaho's counties have implemented Simplifile's e-recording service.
For more information about e-recording in Bonner County call 800-460-5657 or visit simplifile.com.
About Simplifile
Simplifile is the nation's largest and fastest-growing e-recording service provider. Simplifile supports thousands of e-recording customers including title companies, banks, attorneys, lien filers, and other organizations that create and submit documents to nearly 1,000 local, state, and federal government jurisdictions. Simplifile's electronic document services save time and the expense associated with traditional document submission methods. Simplifile is focused on building the industry's largest and easiest-to-use e-recording service for organizations of all shapes and sizes. More information about Simplifile may be found at simplifile.com or by calling 800-460-5657.
"Simplifile" is a registered service mark of Simplifile, LC.
# # #