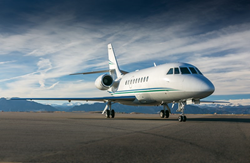 One-way 'empty leg' flights allow us to offer our clients a flexible itinerary at a discounted rate.
Van Nuys, CA (PRWEB) May 13, 2014
The Charter Portal, in conjunction with its network of affiliate private air charter operators, announces it will offer discounted one-way coast-to-coast flights on a weekly basis throughout the summer months of this year. Moreover, the offered flights will be fully customizable in terms of departure and arrival airports, departure times and travel dates. Fueling this discounted availability is an increased demand for private jet flights between New York and Los Angeles, which is creating an abundance of "empty leg" departures out of these cities.
"The beauty of 'empty leg' flights is two-fold," says professional pilot and air charter consultant, Zohrab Grigorian of The Charter Portal, "one-way 'empty leg' flights allow us to offer our clients a flexible itinerary at a discounted rate. We understand the importance of, and embrace the need for flexibility while building an air charter itinerary for our clients. We never take a 'cookie-cutter' approach to arranging private air transportation--that defeats the purpose--and empty leg one-way flights offer our clients the unique opportunity to customize the itinerary to their needs while enjoying a 50 percent discount off the trip!"
The Charter Portal anticipates weekly availability of super-mid and large cabin aircraft for discounted private coast-to-coast flights of up to 15 passengers at times, with more prevalence in the eight to 10 passenger aircraft configuration. Average prices are anticipated around the low to mid $30,000 range. The company advises clients to plan ahead to take advantage of the discounts.
"We will work to provide our clients with the best possible rates for their requested trip no matter how much notice we have to work with; however, we always recommend pre-planning trips by about two weeks to take advantage of empty-leg discounted flights," says Grigorian.
About the Company:
The Charter Portal is the number one source for luxury private jet charter flights throughout the world from approved air charter operators. They work with only the best aircraft charter operators in the industry: those that meet rigorous safety and security standards, and whose operation can support their clients' unique demands.
Charter Portal understands planning for air travel can be stressful at times. They work hard to serve and ensure that all of their clients' needs are met. The extensive process of selecting the best air charter operator is fully centered on the clients' needs and requirements.