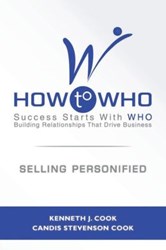 Build relationships that drive business.
Wales, MA (PRWEB) February 03, 2014
Leading business consultancy How To Who, Inc. announces the release of their new book, "How To Who: Selling Personified." The book and a just-announced workshop series teaches business leaders and sales teams how to build effective relationships that drive business.
"How To Who: Selling Personified" explores the dynamics at play in all relationships, offers practical tips and tools for effective interactions and explains exactly how business leaders and sales teams can build relationships that will ultimately drive business.
"When sales aren't working, companies look for things to fix, like changing products, services or pricing. But the fact is, people do business with people they know, like and trust. Relationships are at the core of every business transaction," said Ken Cook, a leading business writer, consultant and speaker at How To Who, Inc. and book co-author. "Our results-driven book and interactive workshops explore the interaction skills and tools necessary to build successful relationships, including a step-by-step program for building relationship-based business plans. We teach companies a critical skill that is rarely taught: how to view business through the lens of relationships. Your ability to develop meaningful relationships will ultimately determine your success."
How To Who, Inc.'s Ken Cook and Candis Stevenson Cook have more than 30 years' experience coaching businesses of all sizes—from Fortune 500 companies to early-stage and start-up businesses—in marketing and sales, leadership development, team-building, client-facing, bridging silos and implementation. Their customized How To WHO workshops are tailored to address individual business' specific needs and identifies areas where improved relationships will yield better business results and return.
"How To Who: Selling Personified" is available now on Amazon.com.
For more information on How To Who, Inc. business workshops, coaching or speaking engagements, visit http://www.howtowho.com or contact kcook(at)howtowho.com or 617-512-1838.
About How to Who:
How To WHO is literally about how to build effective relationships and how to build business through relationships. Straightforward skills, tools and methods help relationships work, including a process for relationship-based business planning. We provide custom workshops, coaching and speaking.
Look around the new HowToWho.com and explore, discover, and download some of our free material. Then decide for yourself if building effective relationships will improve your business.