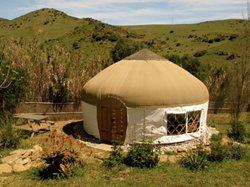 (PRWEB) March 31, 2014
If vacation hunters find themselves on GlampingHub.com these days, they will notice a bit of a change. The world's most comprehensive directory of luxury camping and alternative accommodations has recently had a makeover! Not only has the aesthetic of the platform been refreshed and beautified, but the wheels and cogs that churn and grind behind the new façade have also been updated and enhanced.
The new functionalities of the refreshed Glamping Hub website include the following:
A Faster and More User-Friendly Search Bar: Customers can search city, place, country, or type of accommodation and get comprehensive results within seconds.
More Control for Glamping Site Owners: Owners now have direct access to their profiles, which means that they can manage their calendars and rates. Also, and perhaps most importantly, all sites are being transitioned so that they can communicate with customers directly through Glamping Hub. This means that owners will be able to immediately respond to booking requests, which greatly increases confirmed bookings and customer satisfaction.
Improved Customer Experience: Customer usability has been improved by allowing them the ability to create a user profile and book their accommodations directly through the website. Whereas in the past customers would submit an inquiry to the site and then communicate their booking over email, now those transactions can take place directly on Glamping Hub.
More Accurate Pricing: Owners/managers are now able to input and update their rates for multiple units and accommodation types. For example, imagine an owner who has four yurts, but they are different sizes and offer different amenities. Now Glamping Hub can present customers with individual prices for each of the available units.
Enhanced Map Function: The map images have been updated so that they are more accurate, more beautiful and much more user-friendly.
Increased Focus on Photos: With the new design and layout of the website, the primary focus of each profile is now the photos. They are absolutely stunning and among Glamping Hub's most valuable assets. In addition, the website content has been refreshed so that it is much more visually appealing.
Glamping Hub has never looked or functioned better and is becoming more streamlined every day as site owners start to take full advantage of the new, highly accessible platform.
About Glamping Hub
Launched in 2012, Glamping Hub is the world's first online booking platform offering luxury camping and alternative accommodations on all 5 continents. With over 7,000 unique glamping rooms in 57 countries, and a vast range of prices and amenities, Glamping Hub connects travelers with nature in a whole new way, providing off-the-grid, sustainable and truly one-of-a-kind lodging and outdoor adventure in some of the most breathtaking landscapes on earth. For more information, please visit glampinghub.com.